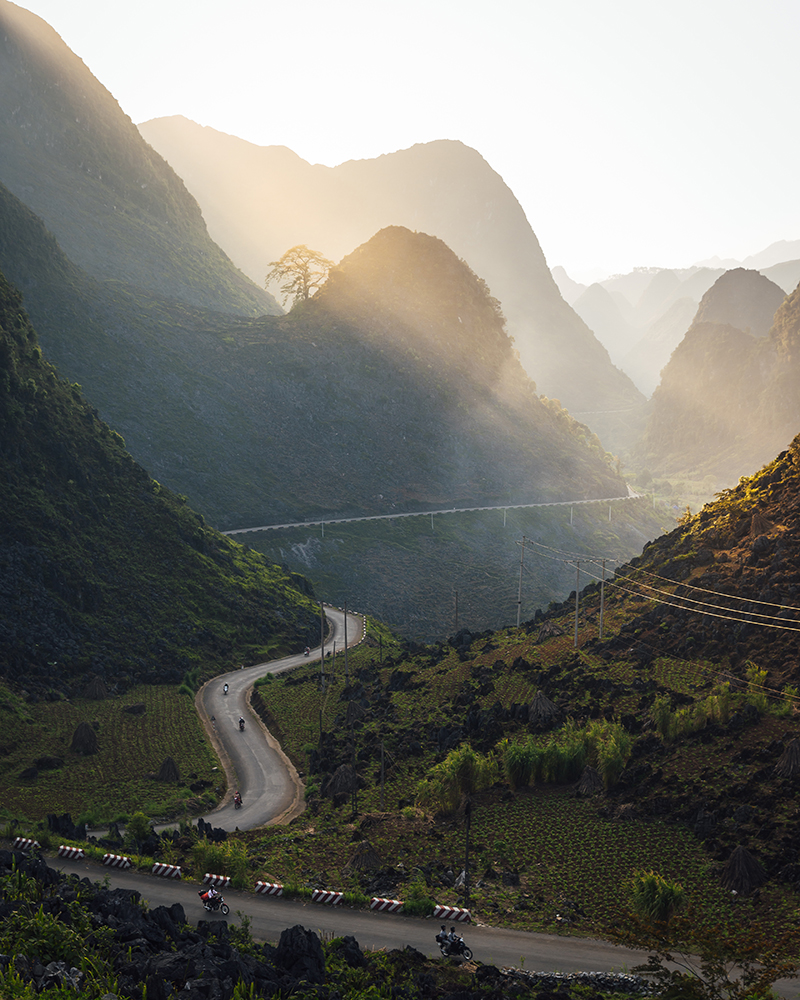 Ha Giang, Vietnam's far North-Eastern province was the most recent destination to be open for tourists to visit in Vietnam. Ha Giang embraces a combination of breathtaking landscapes, fascinating variety in the culture and traditions of the different ethnic minority groups, welcoming friendliness of the people, and the richness of the cuisine. Definitely, our Ha Giang loop tour is a "must-experience" for travelers coming to the North of Vietnam. It is a great alternative to Sapa, with much less tourists.
For many people, doing the Ha Giang loop by motorbike or with an easy rider is a once-in-a-lifetime experience and the highlight of their entire trip to Vietnam.
Here are some insights into the Ha Giang loop with the following keynotes.
Which months are the best to do the Ha Giang loop tour?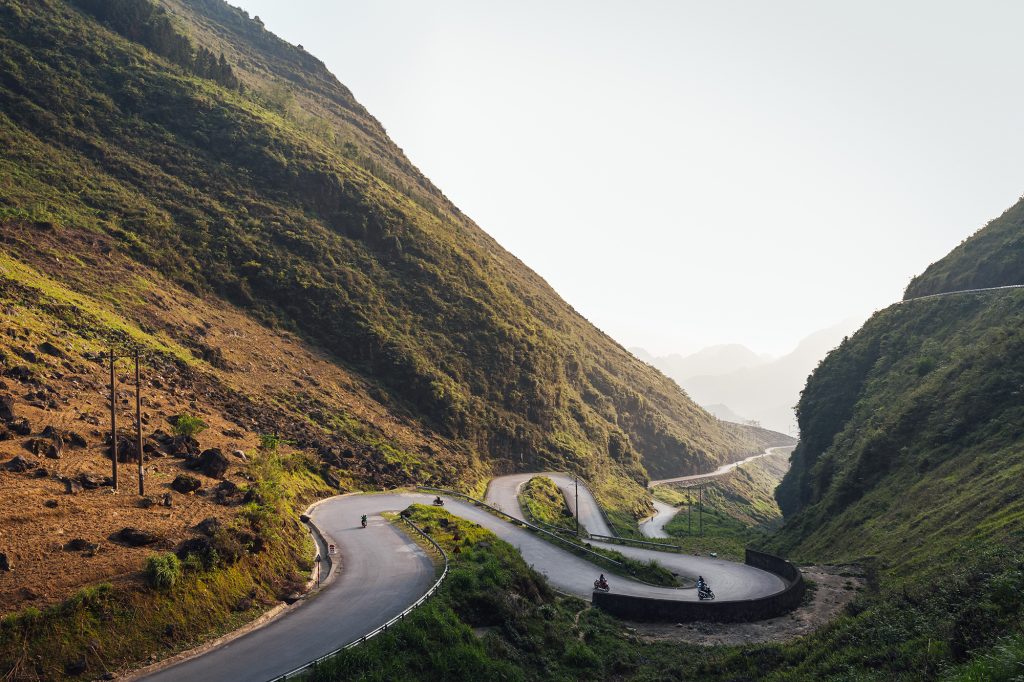 The weather varies throughout the year. People often ask me for advice on the best time to visit this mystical place. I would say that there is definitely more than just one period in the year that you can enjoy Ha Giang. Each season has its own perks which you won't want to miss once you fall in love with this region.
However, the best time to visit Ha Giang is between September and November. The weather is cool and dry, making various outdoor activities, such as hiking, very comfortable. The light changes constantly during the day, giving this place a very magical quality. If you like to check Hoang Su Phi rice terraces off your bucket list, September would be the best time for you. Get ready to feel overwhelmed by the beauty of yellow rice terraces here.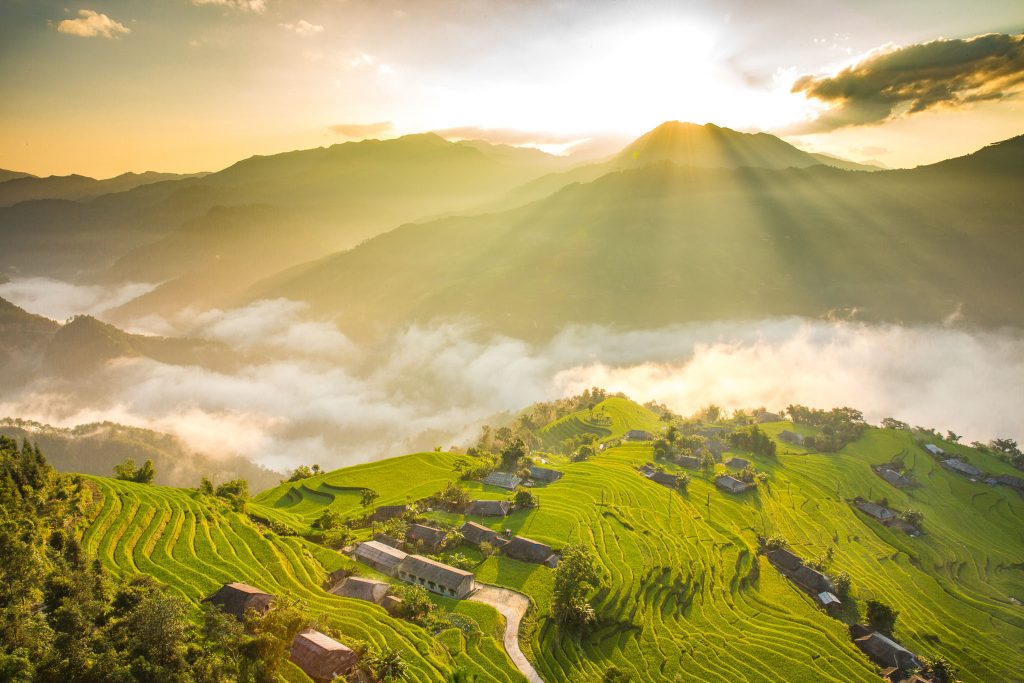 February to May is pleasant. June, July, and August are rainy and stormy, so make sure you always carry a good raincoat and ride carefully. The weather will be super hot and humid too.
From late November until the end of the year, winter brings cold and sprinkling rain to the whole region. If you are traveling to Ha Giang at this time, you need warm jackets, long pants, layers of clothes, boots, and anything that keeps you warm. This period will give you an insight into how difficult life of the local people here is. In the midst of a magnificent landscape, sometimes you feel a bit lonely and overwhelmed. Maybe, it will change your perspective on life.
Do you need a permit and how do you get it?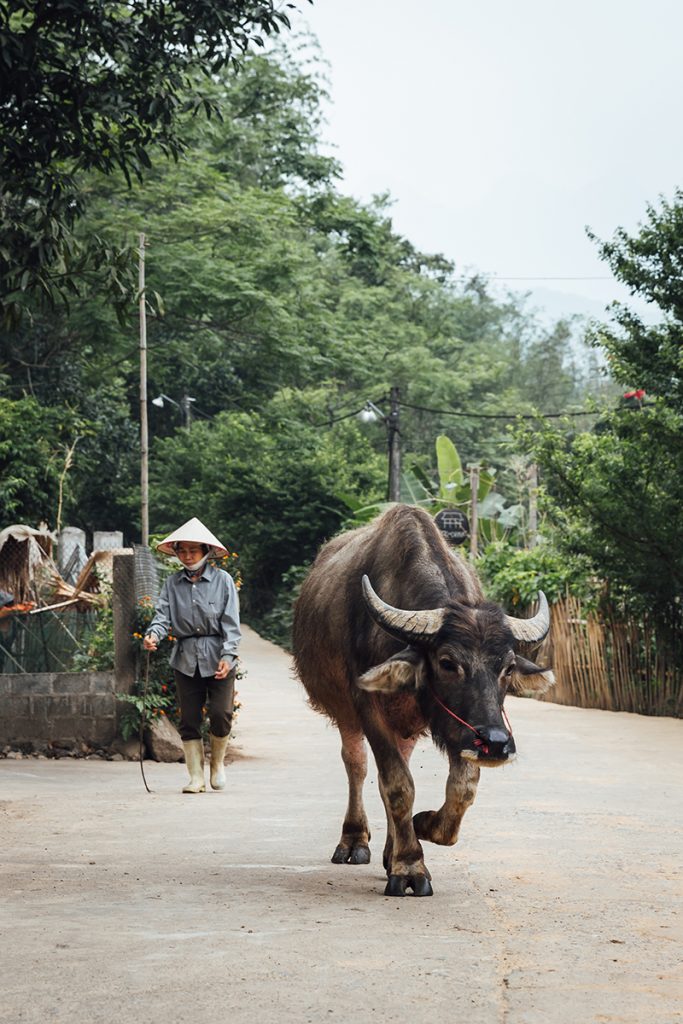 I've seen many tourists who are stressed with the Ha Giang permit or struggling with the permit query. Ha Giang is a border area so you would need to get a permit during your stay which costs 220,000 VND (around $10).
You can get your permit from the Ha Giang Immigration Office. The address is 415a, Tran Phu. Don't freak out if you can't get it before the trip as you can always get them done in any hotels in Dong Van or Meo Vac. Your hotels will always support you to get one easily without any extra charges.
Do you need an international driving license?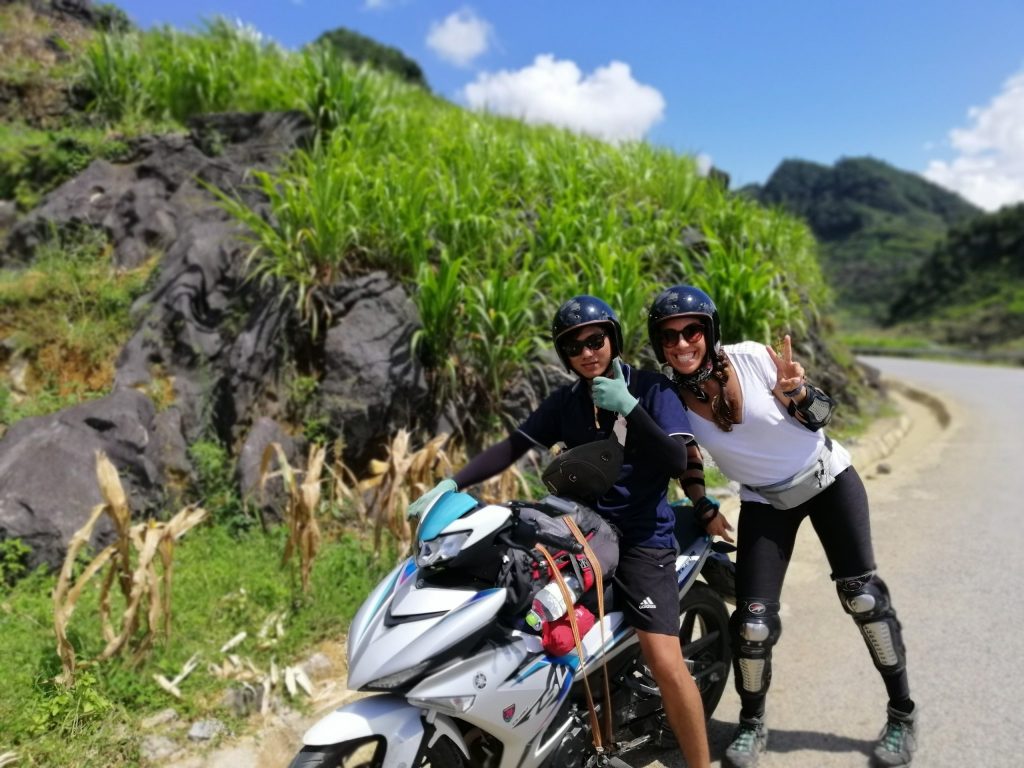 3 years ago when I first visited Ha Giang, foreign tourists on rental motorbikes were already a common site. In recent years as Ha Giang tourism has developed and Northern Vietnamese destinations have become more popular, stricter checks on motorbike safety have been imposed. As a result, there is an increasing presence of local police at many stops along the way, targeting specifically non-native tourists to ask for driving licenses. The license needs to be internationally recognized to ride two-wheel motorcycles and I would advise that it is surely a must-have if you want to ride on your own on Ha Giang Loop tour.
Many people have had to pay fines of 900, 000 VND (around $39) and are turned back when caught with no license by police on the way. Therefore, to ensure your own safety and your travel plans, you should have your license ready with you, or alternatively, you can choose an easy rider.
How to rent a motorbike in Hà Giang?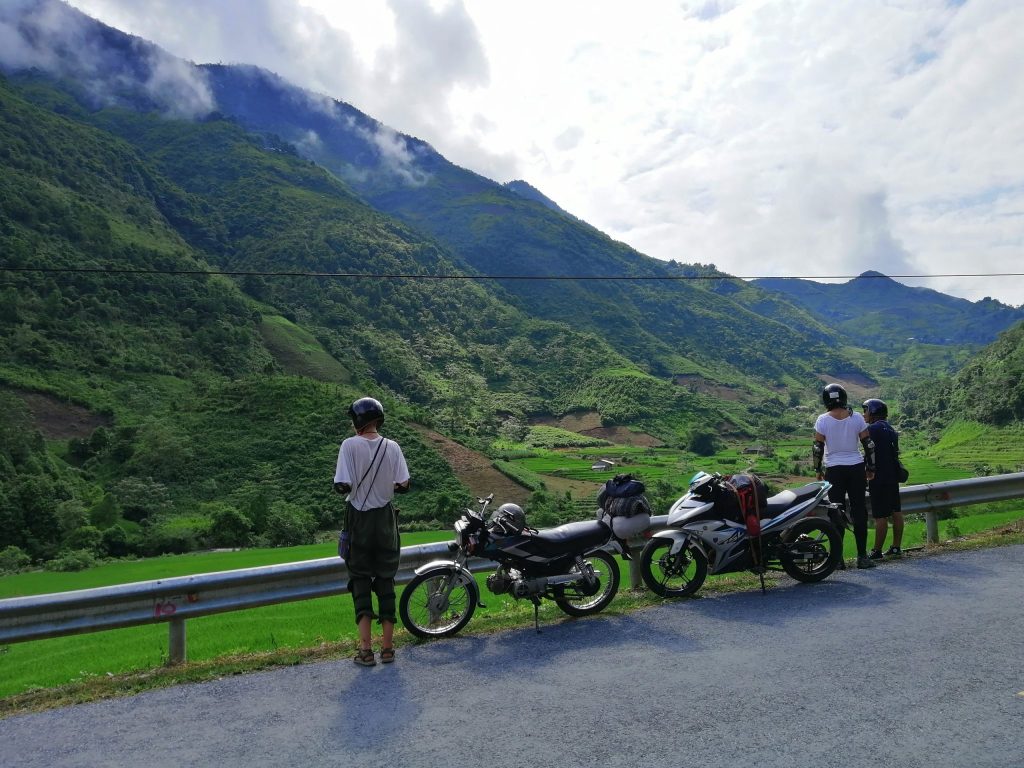 Renting a motorbike in Ha Giang is probably the easiest thing you can do. There are a bunch of rental shops on the main road of the city center.
There are a few places I recommend:
QT motorbike rental
Jasmine motorbike rental
It depends on the type of motorbike that you need. For beginners, you better go with the easy one which is Semi-automatic 110 cc which will cost around 200,000 VND/day ($9).
If you are an experienced biker, you can go with the HONDA XR150 which costs 650,000 VND/day ($28).
There are many other motorbikes available for you to choose from, depending on your experience and budget. You can check out these two places above for more information on motorbike rental.
Itineraries for Ha Giang Loop tour by motorbike
The Ha Giang Loop can be done in somewhere between 2 days and 6 days or even longer if you are not in a rush.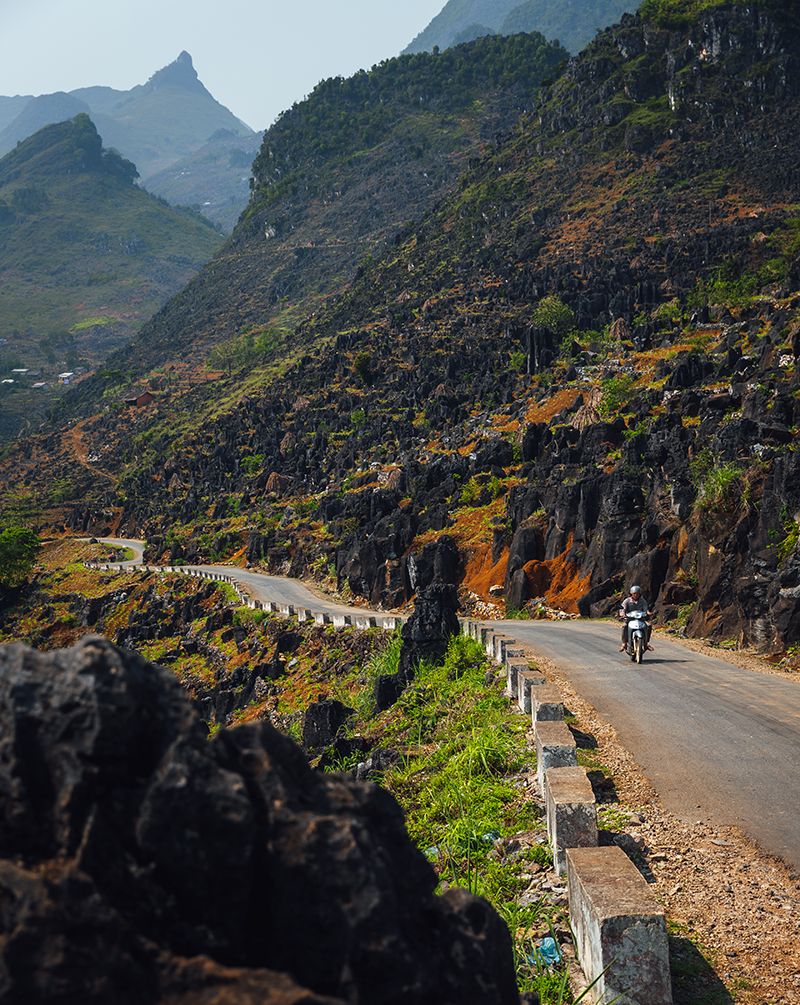 Ha Giang loop tour 2-day itinerary 
Doing the whole loop within just a couple of days is seemingly an impossible mission, but it is absolutely "do-able". Here is my guide for limited-time travelers on the loop.
Day 1: Ha Giang city center – Heaven's Gate – Twin Mountains – Ma Pi Leng Pass – Sky Path – Dong Van (by motorbike)
Ha Giang to Dong Van following route QL4C is essentially the first half of the Ma Pi Leng Pass and it is roughly 4 hours driving. It may take longer than you think as the roads are winding with tight curves. It is recommended to start at about 7-8 a.m. so that you can spend more time at each stop.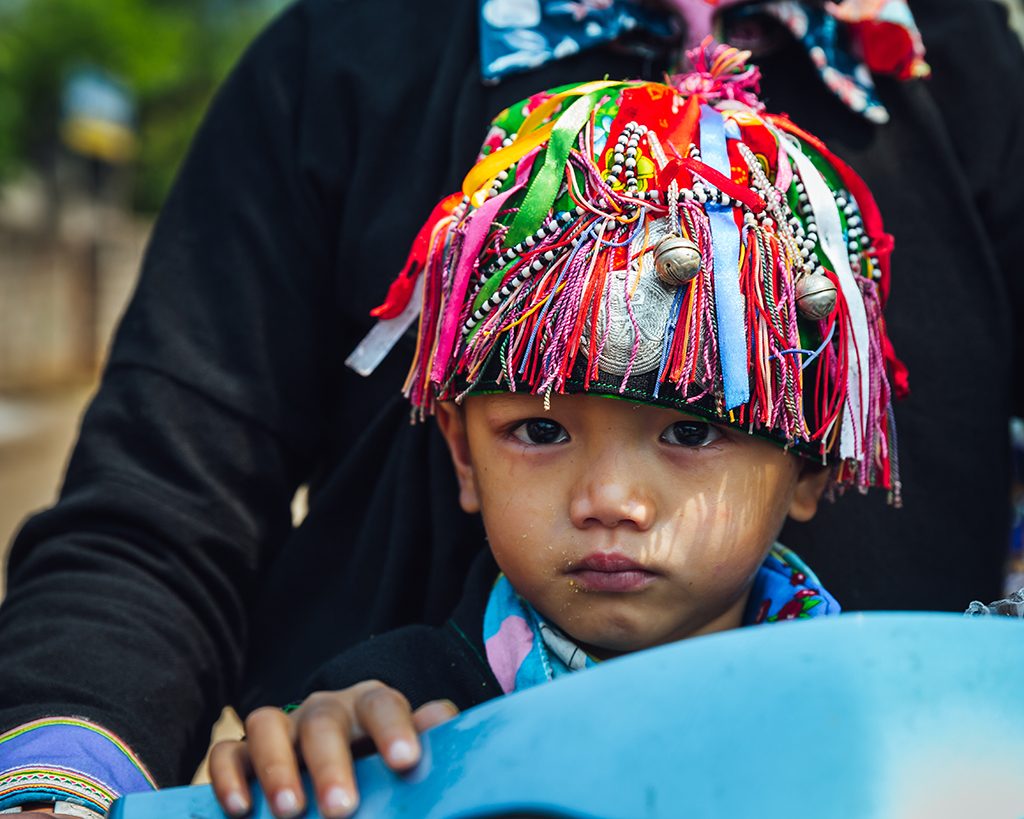 "Heaven's Gate"
On the way, don't forget to stop for the amazing viewing point at Quan Ba – also known as "Heaven's Gate" which is just 80km from the city center. You will have no doubt as to where the place got its name when you climb up to the top.  The view is simply spectacular, with mountains encasing fields, and endless rice paddies.
Quan Ba Twin Mountains
Moving on, you will pass by what locals call "Mother Nature's masterpiece" – Quan Ba Twin Mountains. The mountain appears in a clump and is said to be as attractive as the breasts of a mountain girl in her twenties.
Ma Pi Leng Pass
After lunch, get ready for the most astonishing mountain road in Northern Vietnam – Ma Pi Leng Pass. The incomparable pass belongs to Ha Giang province. It's located along the asphalted but bumpy National Road No. 4C, nicknamed Hanh Phuc (The Happiness Road). The climb is very challenging and dangerous. It was the most difficult pass to build but also the most fascinating pass to enjoy in Vietnam. The road along the mountainside has romantic, stunning scenery that is the ideal destination for biking. The 20km long climb has inspired many people to travel to witness its breathtaking beauty. Once you reach the Ma Pi Leng Pass, you will be amazed by the Nho Que River which is like a silky fillet in the fog.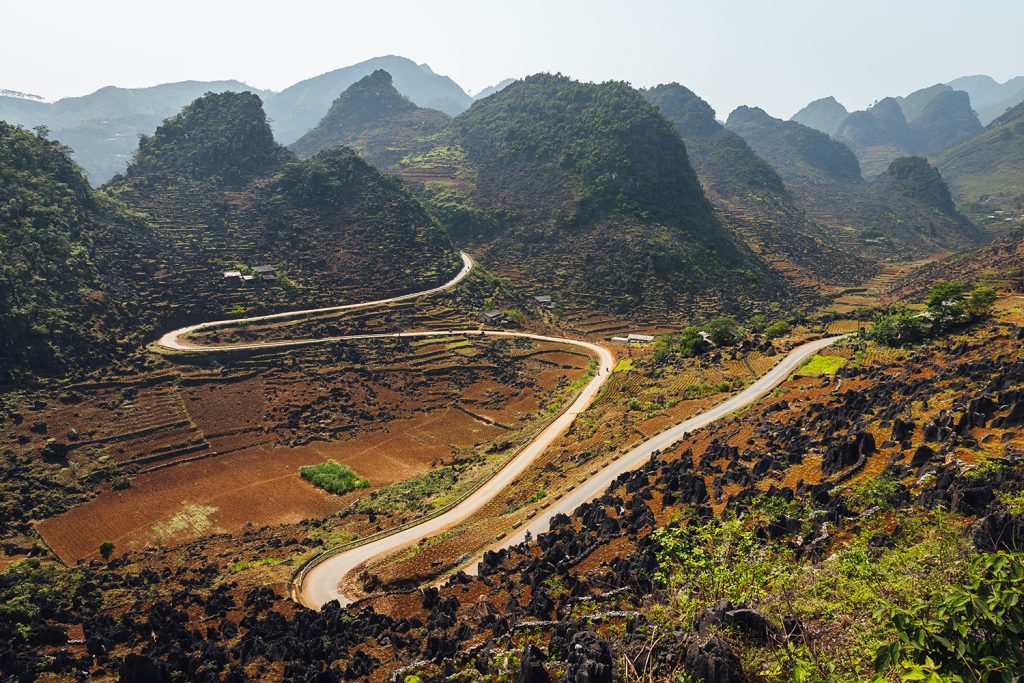 Sky Path
When you reach the Youth Monument, ride along a partially paved walking trail stretching along the side of Ma Pi Leng mountain, called Sky Path. Follow the path to the left of the statue through a small village, then along the curves of the mountain to a point overlooking the Nho Que River and the unique geological formations stretching out into the horizon. The trail continues downhill, looping around a small green valley, then back uphill, into the trees. Listen to the sounds of goat bells and the wind while observing the red and blue strata lining the limestone karsts and wind eroded rock formations. The path is only about 70cm wide and on the side so literally one wrong move would cost you your life. My advice here is to get an experienced driver to take you through this breath-taking trail.
As soon as you finish the Sky Walk trail, it's sunset. The ideal move is to continue driving to Dong Van Town 15km away and grab dinner. The town is quite small but far from boring. Explore a little further though and you will discover a nice small village market, cozy cottages and cafe in back alleyways, and a community farm tucked away and out of sight. Make sure you get a good sleep for the next day's ride.
Day 2: Dong Van – H'Mong King Palace – Sung La (Lung Cam Cultural village) – Lung Tam village – Ha Giang (by motorbike). FINISH.
It's again a full-day trip so you wouldn't want to start it late. Once you are in Dong Van Town, you must visit the Dong Van Weekend fair market which is held every Sunday. The market is just a few footsteps from the town center.
H'mong King Palace
Only a short drive from Dong Van is Sa Phin, the village home to an important historical site, the H'Mong King Palace. It was built in the 1920s for Vuong Chinh Duc who was also known as the Hmong King. The palace is an interesting building with elements of European and Chinese styles and was one of the most luxurious homes in the area.
Lung Cam Cultural Village
Keep riding to the next destination, Lung Cam Cultural Village – a H'Mong village – to get an insight into how they live and work. In November, the entrance of the village is filled with the majestic sight of pink flower blossoms. In winter, the villagers grow a kind of wild cabbage whose flower is yellow, creating another magnificent look. To sum up, Lung Cam village is a great stop despite being a bit touristy from time to time.
Lung Tam Linen Weaving village
Located in Quan Ba (Quản  Bạ) District, Hà Giang Province, Lung Tam Linen Weaving village under the foot of the hills is famous for its tranquility, serenity, and beautiful landscape. In the village, a group of H'mong women work hard every day to make linen products through a series of 41 complicated stages including harvesting fresh hemp, drying the flax into yarn, and dyeing.
The linen cooperative was established not only to preserve the cultural values of H'Mong linen weaving but also to empower H'Mong women, many of whom had been underestimated in their community. Working here, these ladies now can feed their children, get school supplies for them, and most importantly, have an equal role over the male in the family.
Lung Tam is the last stop of our 2-day journey. Now let's go all the way back to the Ha Giang city center and get some rest. Next time, be sure to visit Ha Giang again and try out a longer itinerary to fully experience this mystical land.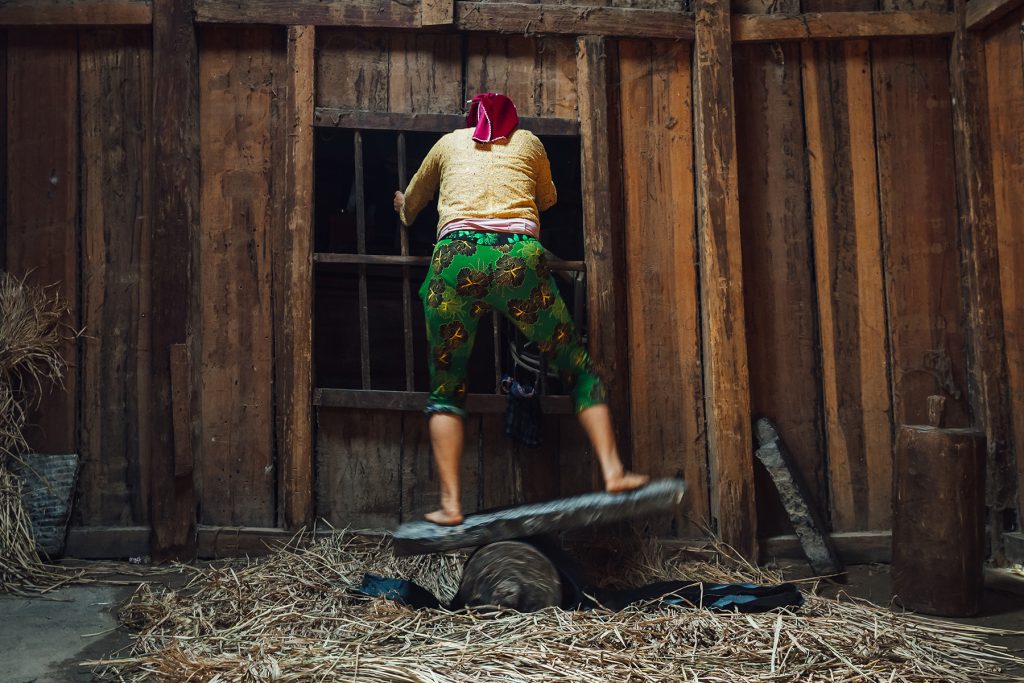 Ha Giang loop tour 3-day itinerary 
It's absolutely worthwhile to spend an extra day as it means you can take a more comfortable pace and allows you to make more stops en route. Check out my suggestion for the extreme motorbike Ha Giang Loop in three full days starting from Ha Giang city.
Day 1: Ha Giang city center – Heaven's Gate – Fairy Mountain – Lung Tam – Lung Khuy – Nam Dam (by motorbike)
You may find countless sample itineraries with just a quick Google search. Most of them suggest Ha Giang – Dong Van on the first day. But we have 3 days here so my idea is to do a shorter route each day to avoid intense travel duration. Believe me, your back will get hurt when you sit literally 6 hours on the bike per day.
From the city center, follow the directions to Quan Ba (Tam Son). Drive to the Heaven's Gate, the Twin Mountains, and the Lung Tam Linen Village (as shown in detail in the 2-day itinerary). Then find a local food stool for lunch and a midday nap (like any Vietnamese do after lunch) before getting ready again for a short hike in the afternoon.
Keep going in the direction to Yen Minh, and don't forget to stop by Lung Khuy Cave which is so worth a visit. The cave is one of the most well-kept I've ever seen. It takes about 2 hours to walk up and down the hill in total. It might seem tiring but no worries, I've seen many old Western visitors who are well into their eighties who have done the whole hike without an issue. You can catch a beautiful sunset once you climb up to the cave and enjoy a panoramic view.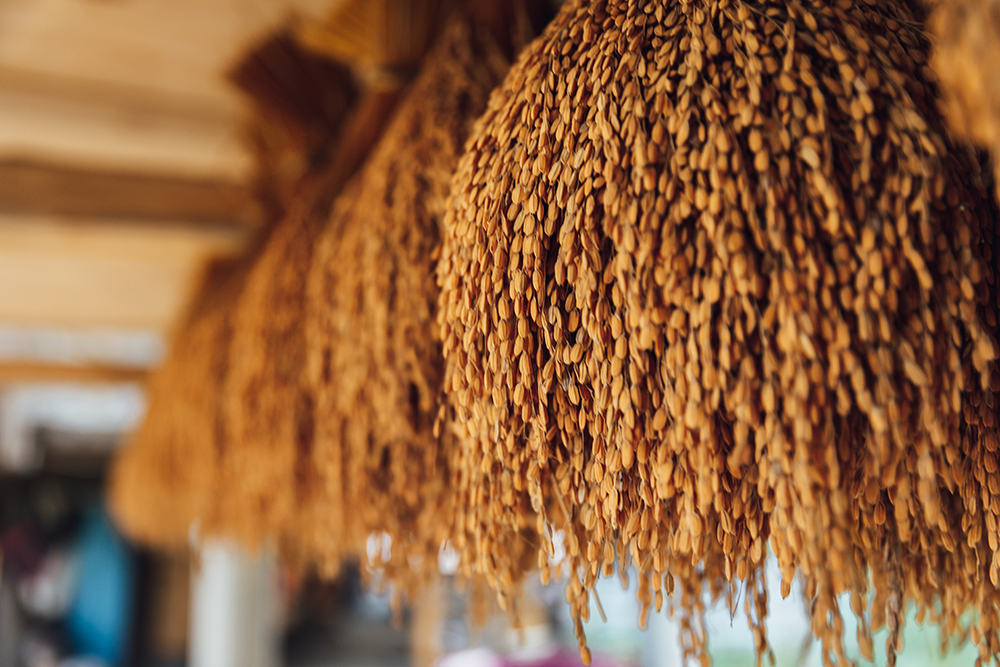 Then ride to Nam Dam village situated at the foot of the Quan Ba mountain range. This is the perfect place to spend your first night. The village is occupied by the Dao Ao Dai tribe and I recommend staying in a homestay for a truly authentic experience. At the homestay, you may expect to sleep on the floor with a thick mattress, mosquito net, and everything you need to live like a local. The way of living here is simple and basic but the people here keep it clean and neat the whole time.
Day 2: Nam Dam – Meo Vac – Ma Pi Leng – Sky Path – Dong Van (by motorbike)
Today's ride from Nam Dam to Dong Van through QL4C is at max 100km, much shorter and less exhausting than traveling directly between Ha Giang City and Dong Van. Not to mention that you will have more time to immerse yourself in the raw beauty of Ma Pi Leng Pass and an adventure on the breathtaking Sky Path. Take your time to get some coffee at a café along the Ma Pi Leng road. You wouldn't want to leave this incredible view that quickly. Tonight's stop is Dong Van Town.
Day 3: Dong Van – Hmong King Palace – Sung La (Lung Cam Cultural Village) – Ha Giang City (by motorbike). FINISH.
On this last day, the route is similar to what the 2-day itinerary suggested and we accomplish the 3-day mission with no regret.
Ha Giang loop tour 4-day itinerary
If you are in love already with the region or simply wish to stay here longer, let me reveal my 4-day plan for your motorbike loop.
1st day: Ha Giang City – Heaven's Gate – Fairy Breast Mountain – Du Gia (by motorbike)
Taking the way of TL176 from Ha Giang city, you are on the way to Du Gia which is said to be a fairyland by the locals. Du Gia is a small village at the bottom of a valley between two mountains. On the way, you will stop at Heaven's Gate and Fairy Breast Mountain just like the other itineraries. It is the entrance to enter the heaven so prepare yourself to live up in heaven in the next few days.
The road towards Du Gia snakes up and over several ranges and the scenery just keeps getting more and more spectacular and fascinating.
Arriving at the village, there's a waterfall about 10-15 minutes from the main road. This is a good spot for a swim. But even if you don't track down the waterfall, it's an absolutely stunning ride through the rice paddies as the sun goes down.
Our night ends with a lot of drinks and laughter. Be careful with the rice wine or you'll be in for a very tough next day!
2nd day: Du Gia – Ma Pi Leng Pass – Sky Path – Dong Van (by motorbike)
3rd day: Dong Van – H'Mong King Palace – Sung La (Lung Cam village) – Lung Tam village – Nam Dam (by motorbike)
4th day: Nam Dam – Lung Khuy Cave – Then head back to Ha Giang city center (by motorbike). END TOUR.
Ha Giang loop tour 5-day itinerary
With a total of 5 days, it gives more space for me to plan a trip that can satisfy even the most difficult traveler. Take the following itineraries into consideration if you wish a combination of motorbike and hiking and you are active enough to conquer the challenging mountain trails here.
OPTION 1: 3 days of easy rider and 2 days of hiking
I found Thon Tha village by chance when I got lost driving a little away from the Ha Giang city center (no more than 15 minutes riding). This is a Tày ethnic minority village that consists of 90 stilt homes made from wood and bamboo, with palm-thatched roofs. The village is surrounded by flooded rice terrace fields, as wet rice cultivation is the primary means of livelihood. The mountain valley to the west of the village is covered in rice terraces, which are great to trek through. There are a few homestays here that are run as community-based tourism. It makes the village a surprisingly perfect haven for me and those who wish to get away from the hustle and bustle of hotels downtown.
Day 1: Thon Tha village – Trek to Ha Thanh village – Thon Tha
From Thon Tha, trekking for 16km through the palm forest and many terrace fields, you will come to the neighboring Ha Thanh village with a dream-like waterfall where you can swim. Thon Tha village is a peaceful village with 100% of the Tay ethnic minority. I am personally fascinated by the tranquil and liveliness of this village. Especially, since it is still well-preserved with not many tourists.
Then go back to Thon Tha for a cozy dinner with the host family and some homebrew corn wine. People tend to make generous meals with food supplies from their mountainside: such as black pork, free-range chicken, wild bamboo sprouts, and sometimes edible veggies they find deep in the forest.
Day 2: Thon Tha village – Trek to Khuoi My village – Thon Tha
The second day highlights a 19 km-long hike uphill to the Red Dao village. This trail is very challenging and long even for the locals, not to mention for inexperienced hikers. However, be patient because, with incredible views along the way, you won't regret it. As you continue walking up into the mountains, the landscape changes quite dramatically. Remember to watch your feet or you will fall off the slippery rice terraces. One minute you'll find yourself in the middle of an old tea field, and then suddenly being under a canopy of palm trees.
By lunchtime, you will reach Khuoi My village – home to 200 families from the Dao ethnic group. You may find no food stalls because life here is very basic. Luckily when I was here, my companion reserved lunch at a local family. They were incredibly welcoming, proudly showing off their collection of traditional Dao costumes and even letting me try one on!
After lunch, let's trek back to Thon Tha to get some rest for the next motorbike trip the following day. The itinerary for 3 days is already described clearly above.
OPTION 2: 4 days of motorbike trip and 1 day of hiking
An alternative to the 5-day plan can be one trekking day and 4 days of easy rider trip. Personally, I would do this route simply because my back is too fragile to do 2 full-day treks.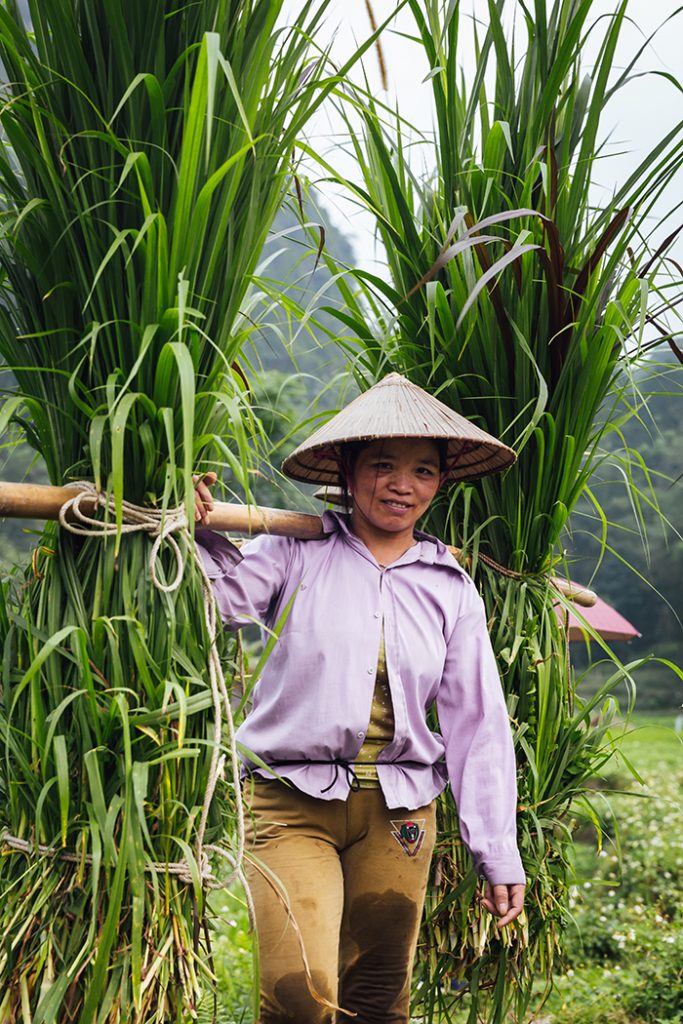 Ha Giang loop tour 6-day itinerary 
I had only 2 days in Ha Giang back when I was the first timer there and I did regret not staying a bit longer. And after many visits to the region, here's my detailed 6-day itinerary.
1st day: Thon Tha full day trekking
2nd day: Take the route from Thon Tha and sleep overnight in Du Gia (by motorbike)
3rd day: Du Gia – Ma Pi Leng Pass – Sky Path – Dong Van (by motorbike)
4th day: Trekking in Dong Van
Dong Van is mostly known for its Sunday fair market and a place to stay after a long ride to the sentimental Ma Pi Leng Road.  But Dong Van is not just the little town with a couple of main roads as you may see. Going further for about 15-18km, you will see a completely different world which remains unsullied by tourists. Very few travelers hike up here, which makes it an off-the-beaten-track place. That's why I highly recommend including a whole day of trekking around this region.
The last time I was there, I learned that the people I met on the way don't usually see many foreigners in these parts and it provided a welcome distraction from the road. They would offer a smile, a wave, a hello, or a puff on their tobacco bongs without ever asking for anything in return.
And then there's the scenery, it's getting dramatic and beautiful as you move toward the border area with China. Passing through a random stream, I feasted on the scenery that surrounded me.
Day 5: Dong Van – H'Mong King Palace – Sung la (Lung Cam village) – Lung Tam – Nam Dam (by motorbike)
Day 6: Nam Dam – Lung Khuy Cave – Thon Tha (by motorbike). FINISH.
An alternative if you do not have an international driving license…
Traveling and experiencing an adventure on your own is always an option. On the other hand, if you want to go with somebody who knows the area well, with the chance to visit a few less-touristic spots while also ticking off the main sights, a guided trip can be a wise choice.
As stated before, local police have started to be present more frequently at any point of the loop targeting foreign visitors. You should bring your driver's license along with you at all times.  For those who don't have one, make sure to book a licensed guided tour. A guided motorbike tour can ensure your safety and comfort. Because it offers an experienced easy rider who serves as an English-speaking tour guide at the same time. You now won't have to be anxious about missing out on photo opportunities, the drivers are always more than happy to stop. Plus, they will provide you with profound insider knowledge of Ha Giang.  Even better if the tour guide happens to belong to one of the ethnic tribes growing up in the region. They have hundreds of stories and interesting pieces of trivia that they are happy to share.
Here's my quick list of reliable tour outfits that organize motorbike trips around Ha Giang. This list is purely based on my personal experience.
Mr. Hung Tourism
Jungleman Ha Giang Tour
Ha Giang Amazing Tours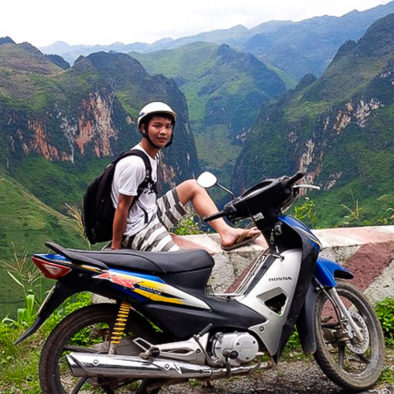 Why should you book with YESD?
YESD is a company with a community focus adhering to principles of responsible tourism which ultimately benefits both you as the traveller and the local communities you visit. YESD gives local people employment, income and learning opportunities so they are directly involved in your tourism experience. YESD's tour guides and hosts will give you a special insight into their own culture and lifestyle in Vietnam.
YESD aims to minimize the negative impacts of tourism on the environment and the local community while contributing positively to the local economy.
10% of all profits from the tours go towards a community fund. This money allows us to make infrastructure improvements and provide other important resources to those in need in the villages we partner with.
At YESD we don't just talk about responsible tourism, we practice it! Contact us today to book your trip.