Love at the first sight – A picturesque giant rocky Hà Giang in the Northern Vietnam
How long do you need to love a person? We will have different answers like right at the first sight, a few days, a few months, a year, ten years or even longer. If Hà Giang was a person, you would definitely love it right at the first sight. Let's check Hà Giang highlights through a year. 
Hà Giang looks so simple as its image. But because of this beautiful simplicity, Hà Giang attracts more and more visitors who want to discover its traditions, customs, and cultures. We can not say which season is the most stunning to come here.
Words are not enough to describe its excellent charm. It is like a lady with a beautiful soul and her lovers need to discover it time by time and by soul also. From the local hospitality, its cuisine, its gorgeous landscapes and a lot more. Let's check Hà Giang highlights in a year.
Hà Giang highlights through a year: 
January and February
Festival season: Hà Giang often shimmers with mustard greens flowers, peach blossoms, as charmingly depicted these photos. Yellow cabbage flowers bloom vibrantly in front of "Pao's home", the setting for the famous 2006 movie "The Story of Pao" in Lung Cam cultural village, Sung La Valley, which connects Yen Minh District with Dong Van Rock Plateau.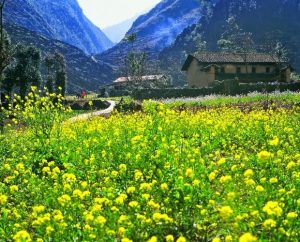 March
March is the time when apricot flowers are full of pink color. Little-known Lao Xa Village in Sung La Valley with fresh plum and peach blossoms.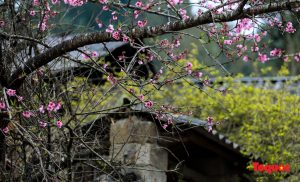 Bombax ceiba trees blossom in Hà Giang with red and orange colors. The flowers are seen everywhere in Hà Giang, creating beautiful scenery in the mountainous area. The Bombax ceiba flower starts blooming in March as the weather is getting warmer. It's the perfect time to contemplate the beauty of the flowers.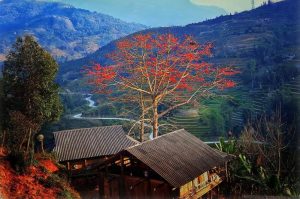 April
Khau Vai Love Market is perhaps Vietnam's most unique market, but it only happens once a year. If you want to visit this market, you have to plan it well. On the 26th of the third lunar month (often April / May), local ethnic women and men put on their best traditional costumes to go to the market, where they are free to meet their former lovers in public. Men and women come together in the market where they look for their former partners in the crowd. Spouses do not get angry or jealous because the meeting on the market is only a temporary moment. It has no influence on their daily life or relationship.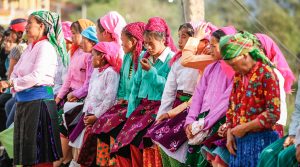 May to July – A unique Hà Giang in the watering season
The Meo or Hmong people in Hà Giang only grow a single crop of rice each year, whose harvesting season comes in September. When May gradually turns into June, spring gives its way to summer through heavy rains, waterfalls from the higher terrace fields to the lower ones, creating a "water tower" that reaches out to some faraway mountains. That season is called "mùa nước đổ" (the watering season) – the time when Meo people start growing a new rice crop. The watering season lasts till the end of July. In this season, besides rice, Meo people also grow corn all over the rock plateaus.
Amid the heat of summer, Hà Giang's watering offers pleasantly cool weather. The sudden rain in the majestic mountainous region turns this place into an ideal shelter to avoid big cities' hustle and bustle. One must be so fortunate to be immersed in the beauty of Hà Giang's watering season, which is not crowded with tourists during the festival season, though still offers visitors chances to admire the vast clear blue sky and splendid mountain scenes.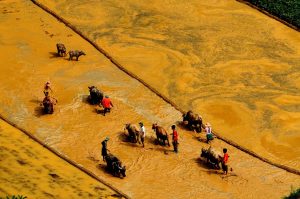 August and September – Harvesting time
Every year, between September and October, the terraced rice fields of Hoang Su Phi, Hà Giang, put on a show of picturesque harvest colours. In the fresh, dew-drenched dawn, hundreds of stepped rice paddies, carved into the contours of steep valleys, are illuminated by the autumn sun. The gold-green and toast-brown colours of the ripe rice are luminous. The curving terraces, although man-made, appear to be in complete harmony with the landscape. They create a hypnotic patterning across the hills and valleys.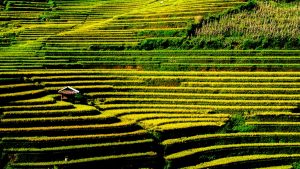 October to December
Year-end is the time when ethnic communities in the northern highlands harvest buckwheat. This is a type of grain commonly used to make cakes and wine. If you set foot in Hà Giang at the end of autumn (September to November) and even December, you will have a chance to experience the magic of the dreamy pink buckwheat fields stretching across the hills. From Hà Giang town, the Happiness road will lead you to the land of buckwheat flowers. The Dong Van Highland blooms with buckwheat flowers during November and December, over the mountainside, across villages and fields, passing through the legendary Ma Pi Leng saddle, creating a plateau of pink color. The beauty of nature, climate, and ecology all together bring soothing emotions and relaxation in the heart of visitors. It is a romantic escape, even for those who deem themselves non-romantic.
At YESD, we make sure you will never miss any special moments of this peaceful land. Get in touch with us today to book your tour.