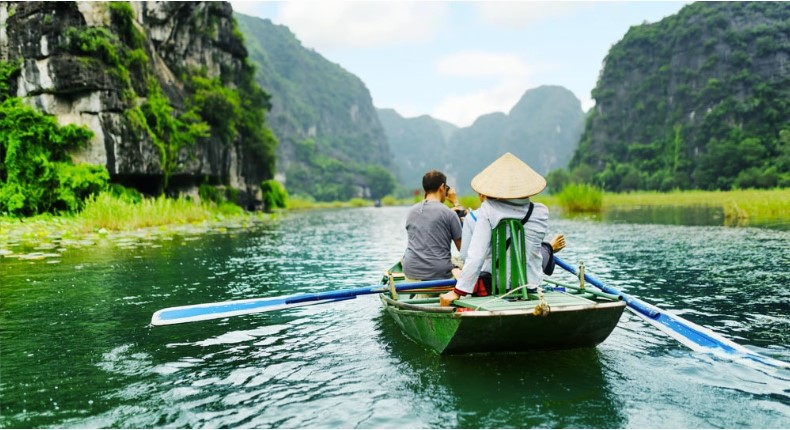 Travelling to Vietnam, but want to escape the hustle and bustle of the big cities? Only 100 km away from the capital, Hanoi, Ninh Binh holds his beautiful natural scenery. With its vast rice fields, shimmering rivers, limestone mountains, along with many historical sites, pagodas and temples its surely a place you want to visit while travelling the country. It is an ideal place for you if you want to explore the rural parts of the county and immerse yourself in nature and tranquility. Let's plan your trip to this amazing place.
Best time to visit 
Like in all North Vietnam, Ninh Binh is characterized with tropical monsoon climate. It has four seasons including winter (dry season), summer (rainy season), spring and autumn as two transition periods. Visiting is good at almost any time of the year, but there are some periods that are better than others.The period from March to April is mild and pleasant, good for doing a lot of walking and exploring as it's not too cold or hot. If you want to see the golden paddies and don't mind hot weather late May to early June is the perfect time for you to visit. June is also the time for blooming lotuses, which is great for lotus lovers and photographers. If you prefer cooler temperatures, October and November may be the right months for you. The temperature is around 20°C, perfect for trekking, cycling and climbing.It is best to avoid visiting in December and January, when the weather is cold and rainy, as well as national holidays as Vietnamese Traditional Lunar New Year as the places might be very crowded.
How to get around Ninh Binh 
You will need your own transport if you want to visit all sites, since the sites are quite far away from each other.
Bicycle
You can rent a bicycle at your hotel or homestay in Ninh Binh or they can recommend a place to get one. You can get out into the countryside, explore the surrounding villages and get to beautiful temples when riding a bicycle. Since some amazing spots are quite far though, be ready to do at least 30 to 40 kilometers per day.
By motorbike
A motorbike is probably the best way to get around Ninh Binh. You can get one at your hotel with the price around 100,000 VND (~4 USD) per day plus gas. Getting a motorbike will make it easy for you to get to all amazing places in Ninh Binh without tiring yourself out completely before even reaching your destination.
By car
A private car with driver is another option to get around Ninh Binh. You can book this service with a local travel agency and a local tour guide is recommended to accompany with you to help you know more about the places. This is a good option if you are traveling in a group or with small kids.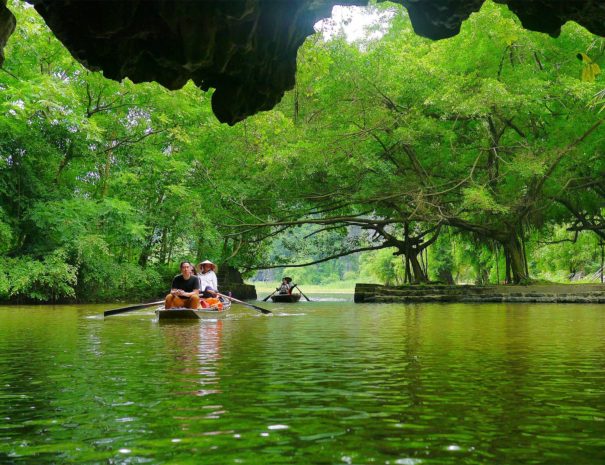 Accommodation in Ninh Binh
As a famous attraction, nearby Hanoi, Ninh Binh has a wide range of accommodations, from hotels, hostels, homestays in the city and the countryside. You can chose your accommodation based on your preference and budget from hostels in city center, homestays to the luxury hotels and resorts. It is suggested to book your hotel or homestay in or around Tam Coc area for the quiet and tranquil atmosphere. It is also closer to many top sights in Ninh Binh such as temples, pagodas, beautiful rice fields and offers a nice experience of a small countryside town. It is suggested to book your hotel or homestay in or around Tam Coc area for the quiet and tranquil atmosphere. It is also closer to many top sights in Ninh Binh such as temples, pagodas, beautiful rice fields and offers a nice experience of a small countryside town.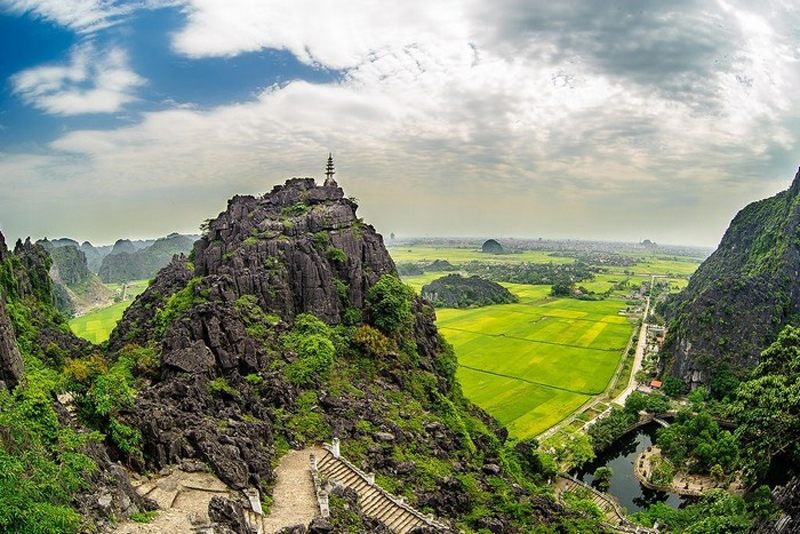 Best things to do in Ninh Binh 
There is an endless list of activities to do in Ninh Binh, leading to some of the most impressive landscapes of the country.
Visit Tam Coc 
Due to its spectacular limestone hills scattered throughout lush rice terraces, Tam Coc, which is located just outside Ninh Binh's town center, is one of the top natural locations in the entire country of Vietnam. Get a boat tour of the area's waterways, and you can hike the environs as well.
Sample Local Cuisine at Cho Bop Market
Around Ninh Binh's center, there are numerous eateries, many of which serve the regional delicacy: snails!If you don't like those, Cho Bop Market in the town center might provide better selections. Vietnamese foods like noodle soups and spring rolls are among the many items sold in this market's countless carts and tiny cafés.
Explore Van Long Nature Reserve 
There are endless nature reserves and national parks, like Van Long Nature Reserve or Cuc Phuong National Park. Van Long Nature Reserve is a wetland reserve popular with bird watchers, but you'll also find monkeys and reptiles there.Cuc Phuong National Park is slightly different as it is a tropical forest, but you will also find a lot of amazing wildlife there, as well as over 2,000 types of flora making it perfect for nature lovers!
Visit Phat Diem Cathedral
Phat Diem Cathedral, which lies around 35 kilometers (22 miles) outside of Ninh Binh's town center, is a striking structure with a blend of Vietnamese and Western architectural elements. During the colonial era, this cathedral, which was built in 1898, was frequently referred to as the "Vatican of Vietnam."
Buy Souvenirs at Van Lan
We advise going to the nearby Van Lan hamlet, which is renowned for its delicate embroidery, if you wish to buy souvenirs to take home. To give to friends and family back home, you can purchase items like bags, t-shirts, and pillows. Don't forget to bargain! Sounds amazing?
Book a Ninh Binh tour now.
You have now all the keys in hands to enjoy a fully comfortable vacation in Ninh Binh. Need more information? Don't hesitate to
contact us
, we will be more than happy to answer your questions!