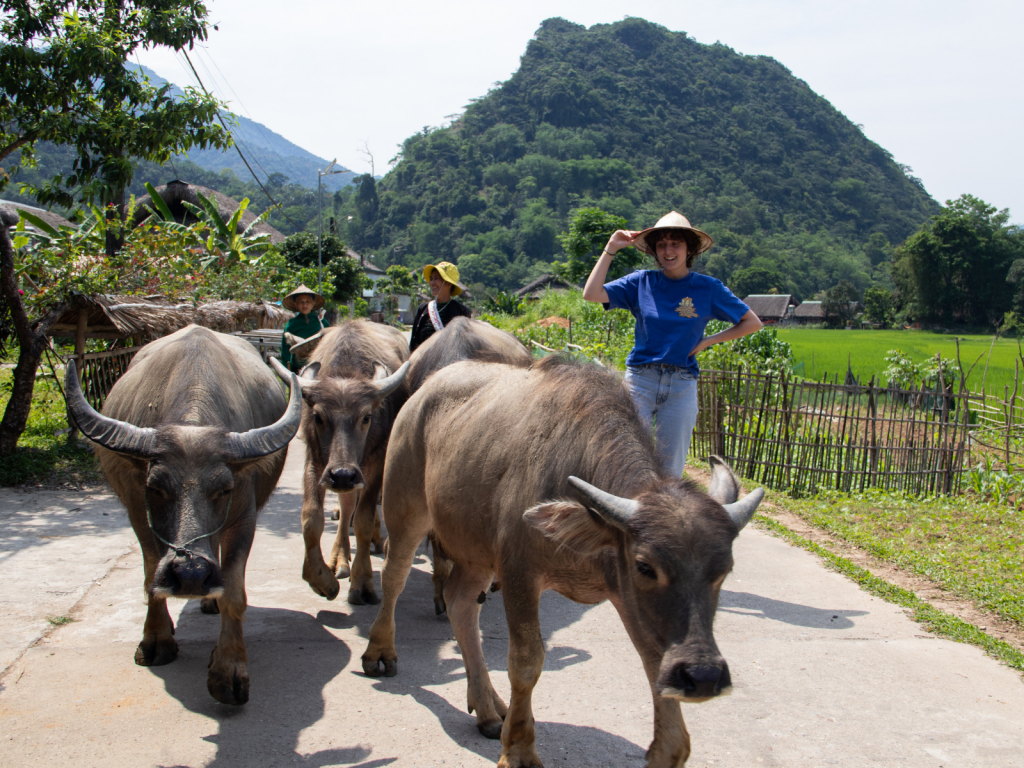 YESD Travel believes that volunteering favors social integration for both the local community and foreigners. Indeed, on the one hand, the volunteer can gain experience and learn a new culture, in a new environment, and open themselves to the world. While on the other hand, the destination's host can benefit from the volunteer's working skills, and from their ability to speak English. This is an exchange from both sides, making this opportunity unique and useful for each part.
That's why YESD encourages and welcomes volunteers since its creation in 2015. But what is it like to be a volunteer in Ha Giang, and how to make the most of this experience ?
Why volunteering in Ha Giang
Everyone has its own reason to volunteer, be it for personal or professional purposes. But we make sure to accompany them in whatever they are looking for, so that they can achieve their goals and beyond. By volunteering here in Ha Giang, it is not only a great working opportunity, but more like an authentic cultural experience. This peaceful province brimming with unique cultures and traditions, makes for everyone a learning journey everyday. Also, if they aspire to travel during their free time, Ha Giang loop, Sa Pa, or the proximity to Hanoi or HaLong Bay make this region a great destination, and we are more than happy to recommend our best spots and share some tips and anecdotes. Thus, the peaceful and exotic atmosphere of Thôn Tha village is a big bowl of fresh air if you want to take a break from your daily life.
Who volunteers with us
All the people that come to help us have some kind of special skills. Be it in marketing, video-making, arts, teaching, writing… each person contributes to build the YESD of tomorrow. They all come from different environments, from Vietnam or other countries, but are all driven by the same will to be useful and to explore new things.
Being a Vietnamese or a foreigner, our volunteers always seek for an authentic experience in Vietnam. Located in a homestay in a small village of Ha Giang, surrounded by rice fields and mountains, we believe that the atmosphere and friendly locals make it possible for them to experience a new life far from what they know.
Since 2015, we offer different volunteering projects, including :
Teaching project

: we tend to encourage the local community to learn English so that they can interact more with the tourists and better approach career opportunities.

Construction project

: it consists of giving Ha Giang's disadvantaged people access to basic facilities by collectively building roads, painting schools, etc.

Summer camp project

: we organize camps for group students in order for them to learn the basics of survival and teamwork. 
Our volunteers' testimonies
Through the years, we had the chance to welcome many volunteers, traveling from all kinds of places. Here are some of them talking of their recent experience with us :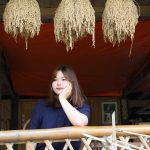 "During the early days of the project, I was greeted with friendliness. I was taught how to knit, visited famous local tourist attractions, and enjoyed the specialties of Tay ethnic… After a month of operation, with the role of English teaching assistant for local guides and developing local handicraft products, I feel very happy to have been able to help people get better every day.
" – Phuong, 20yo, Vietnam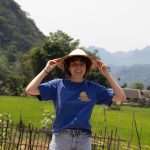 "
I came from France with a lot of expectations. I was afraid I wouldn't fit in or adapt to the country. But my family host treated me really well, and made me feel at home. This experience is very enriching as I am learning a lot about the regional culture through the local community. I also had the chance to travel in the region and discover its most beautiful sceneries. It is a real pleasure to teach English to the friendly locals and to help the marketing team. I will never forget this experience in Vietnam.
" – Axelle, 23yo, France

 
Want to join a project and support us too ? Apply now.