Thien Huong Village, a small but charming hidden village also known as Ma Pang, is a picturesque ancient village located on the Dong Van Plateau in Ha Giang Province, Vietnam. Many tourists have yet to discover it, but its rustic, simple, and ancient beauty is unlike any other.
Why visit Thien Huong Village?
This is a place where time seems to stand still with r
olling hills, lush greenery, and fresh air.
It is the perfect destination for those looking to escape the hustle of daily modern life.
One of the most striking features is the traditional Tay ethnic houses that line the streets. These houses are built from clay with walls made of stone, giving them a unique and rustic charm. These houses in Thien Huong village have been standing for hundreds of years and have withstood the test of time.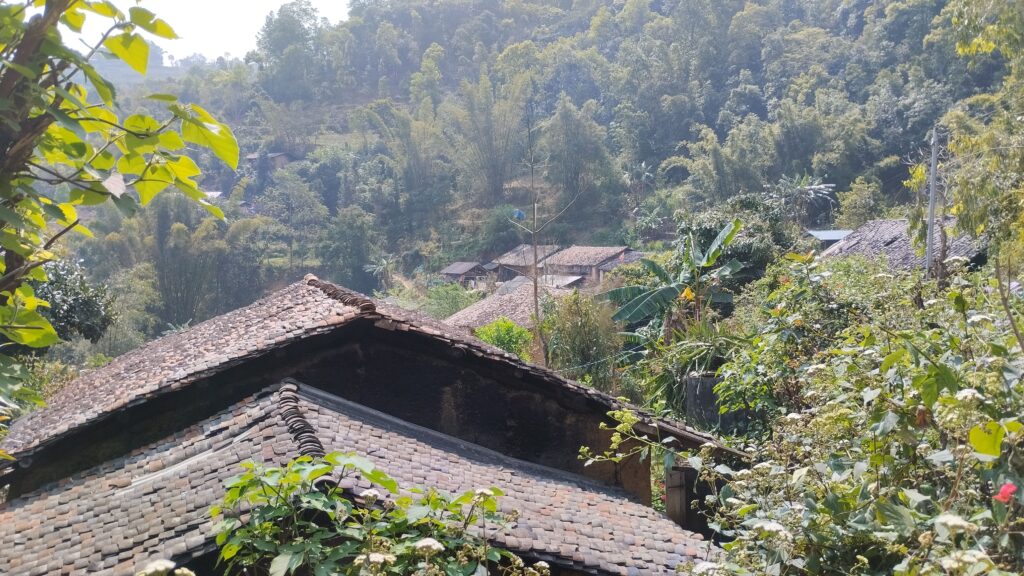 As you walk through the village, you will notice the solemn arrangement of ancestral altars in the ancient houses. This is a testament to the unique cultural customs of the local ethnic community.
Visitors can also witness the centuries-old banyan trees in the village, a symbol of the enduring nature of this ancient land.
The beauty of Thien Huong Village is the abundance of flowers that bloom throughout the year, creating a romantic and dreamy atmosphere.
It is a place that captivates the senses and leaves a lasting impression on those who visit.
When is the ideal time to visit ?
The ideal time to visit is from late September to November, when the weather is mild and the scenery is at its most beautiful. During this time, the land and atmosphere are dry, and the temperature is not too cold or hot, making it perfect for outdoor activities and sightseeing. The rice fields are also at their best during this season, with golden fields covering the hillsides.
However, visitors can visit all year round, and each season has its own unique charm.
In the spring, the village is covered with blooming flowers, while in the summer, the surrounding mountains and forests are lush and green.
Visitors should avoid the rainy season from May to early September, as the roads leading to the village can become slippery and dangerous.
Thien Huong Village is about 6km from Dong Van Town in Ha Giang Province. Visitors can take a motorbike or walk from Dong Van to the village. Alternatively, they can join a Ha Giang Tour Package with Thien Huong Village added on.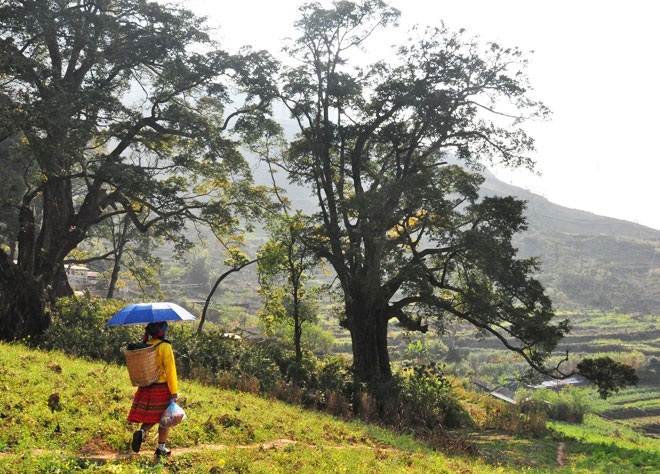 Discovering Thien Huong
Ancient Banyan Trees and Time-Honored Traditions
After arriving at Thien Huong, you'll be greeted by century-old
banyan
trees that hold a special place in the hearts of the residents. Monthly gatherings under these trees allow the villagers to worship the forest god, seeking blessings for good harvests and well-being. Among these ancient trees, four are recognized to have thrived for an astonishing 700 to 750 years.
Thien Huong's Unique Architecture
Ethnic Diversity and Terracotta "Trinh tuong" Houses
Thien Huong is home to 43 households belonging to the Tay, Nung, and Giay ethnic groups. These ethnic groups live in terracotta houses called "Trinh tuong", which can easily be regcognized by their unique architecture, with thick walls, yin-yang tiled roofs, and wooden frames.The houses have three main sections, with two entrances. The central hall houses the ancestral altar, while the adjacent area serves as a living room. The guest rooms and the kitchen are usually on the left, while the bedrooms are on the right. Each section is separated by stone walls, and the surroundings are adorned with peach, plum, and pear trees.
Sacred Ancestral Altars and Cultural Traditions
The Tay family's ancestral altar is arranged with parallel sentences on two sides, reflecting their deep cultural beliefs. The entrance of the house is adorned with three talismans to protect people from the evils, in accordance with their traditional beliefs.
Life in Thien Huong
Warm Hospitality and Local Delicacies
Thien Huong's residents extend a warm welcome by inviting guests to enjoy tea or corn wine, a local specialty known for its unforgettable taste.
For those seeking a unique experience, "Thuoc lao," a strong mountain tobacco, is also available for adventurous visitors.
Diverse Livelihoods
In addition to agriculture, the locals engage in animal husbandry and handicrafts to make a living. They produce their own corn wine, which is not only enjoyed locally but also quite famous in other provinces. Most women and girls are can weave to make some extra income, while children running around the village playing. Women in the village usually wear traditional black outfits with special hairstyles, while men also dress in black attire in their daily lives.
Corn Wine: A Thien Huong Specialty
If you visit Dong Van, you can't forget to mention corn wine. And when you take a sip of the wine made by the people of Thien Huong village, you'll understand why it's renowned.A liter of this unique corn wine costs around 40,000 VND. This wine is a result of of time, skill, and a secret formula mastered by the villagers.
A Journey Worth the Detour
The road to Thien Huong village may be challenging for travellers, especially on rainy days, but the journey is well worth it to have a glimpse into the timeless charms and natural beauty of Ha Giang.
Sustainable tourism in Thien Huong Village
This is a great place to experience sustainable tourism.
Sustainable tourism can be defined as
a kind of tourism that has more benefits than negative impacts, especially relating to the environment, the economy, and communities
.
It is a type of tourism that is both environmentally and socially responsible.
There are a number of ways to experience sustainable tourism there. Here are a few examples:
Stay in a homestay: There are a number of homestays, and you can support the local community and learn about their culture when you stay there.

Eat local food: There are a number of restaurants in there that serve local food. Eating local food reduces your environmental impact and supports the local economy.
Take a guided tour: YESD offer guided responsible tour to visit Thien Huong Village.

If you want to know more about the history and traditions of this village, do not hesitate to ask the our local tour guides.

Visit local markets: There are a number of local markets.

Local markets are a great place to buy souvenirs and goods.

Support local businesses: There are a number of local businesses in Thien Huong Village, such as souvenir shops, restaurants, and homestays.

You can also contribute to the local economy by supporting local businesses.
By following these tips, you are contributing to the local community and by that, Thien Huong Village will remain a sustainable tourism destination for many years to come.
If you are intrigued by the rustic beauty of this ancient village, you can learn more and book at trip to
Thien Huong village
with YESD.