Vietnam is a country renowned for picturesque landscapes and vibrant culture. It is not only about bustling cities, but the country also offers a haven for hiking enthusiasts. While Sapa has long been a favorite destination for hiking enthusiasts, the hidden gem of Ha Giang promises an equally captivating experience. Let's embark on a journey through the diverse options for Hiking in Ha Giang.
Unveiling the Hidden Gem: Hoang Su Phi
Ha Giang's charm goes beyond the popular Dong Van karst mountains. The underrated destination of Hoang Su Phi showcases some of the most impressive rice fields in Vietnam. Nestled away from the tourist trail, this off-the-beaten path destination provides a unique and authentic hiking experience. Therefore, a hike from village to village in Hoang Su Phi reveals the stunning cultivated areas that can't be missed. Furthermore, you can explore Hoang Su Phi with our exclusive trekking tour or combine it with hiking in Ha Giang loop for an extended adventure.
Here are some of the most picturesque trekking routes in Hoang Su Phi:
Nam Hong – Nam Ai: Ideal for first-time visitors, this route provides a relatively moderate hike, showcasing some of the district's most picturesque rice terraces.
Tan Phong: This trail is harder compared to Nam Hong. Nam Ai offers hikers with breathtaking scenery through secluded villages and past cascading waterfalls.
Ban Luoc – Ban Phung: Tailored for those seeking a cultural experience, this trail winds through numerous ethnic minority villages, allowing travelers to immerse themselves in the local life.
Thong Nguyen – Hoang Su Phi Lodge: This trail is usually for experienced hikers, this challenging trek leads to the highest point in the area, offering mesmerizing views of the surrounding mountains and valleys.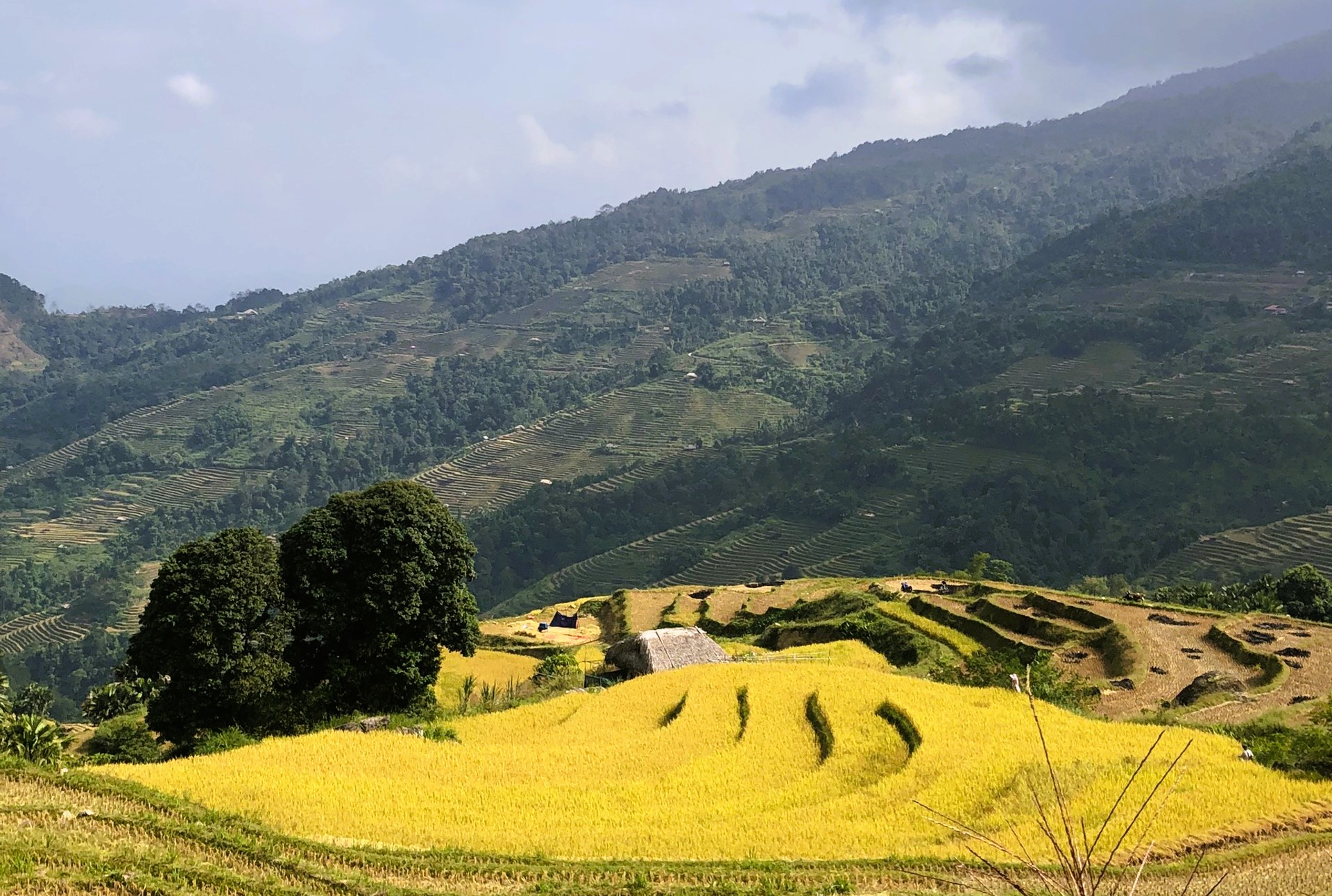 Dong Van: Where Culture Meets Nature
For those seeking for a hiking trip in Ha Giang loop, Dong Van emerges as a prime choice. The Dong Van Karst Plateau Geopark offers a breathtaking backdrop of mountains. From afar, you can see the mountain range dotted with villages inhabited by ethnic minorities. Whether opting for a half-day, full-day, or multiple-day trek, the area between Dong Van town and Lung Cu, along with Thien Huong promises a mesmerizing experience. Moreover, don't miss the famous Ma Pi Leng Skypath between Dong Van town and Meo Vac, which offers an additional trekking option.
Hiking in Ha Giang City
Ha Giang City, often a starting point for many, unveils small minority villages like Xa Phin and Khuoi My. Moreover, it surrounded by hills and vast rice fields, these villages offer a tranquil atmosphere for your trekking adventures. While the mountains may not reach the heights of Dong Van, the more flat landscape ensures a peaceful walk through minority villages, with traditional stilt houses and farm animals dotting the landscape.
The trek starts from Thon Tha, traversing village paths to Xa Phin hamlet, guiding hikers through rice fields from the base to the mountain's top. Xa Phin belongs to Phuong Tien commune, Vi Xuyen district, situated 1,000 meters above sea level. Therefore, here you can see distinctive traditional houses with their roofs adorned in lush green moss.
Though the uphill journey may be challenging to some, the breathtaking landscape makes it entirely worthwhile. In Xa Phin hamlet, the cool weather all year round fosters an environment to the flourishing of plants, notably the green moss adorning the damp palm-leaf roofs of stilt houses. Besides, Xa Phin village, inhabited by 53 households of the Dao ethnic minority, is often covered in mist and occasional drizzle due to high humidity. Therefore, the consistent cool climate creates ideal conditions for the moss to grow. Typically, it takes a minimum of five years for the moss to appear on the roofs of newly constructed houses.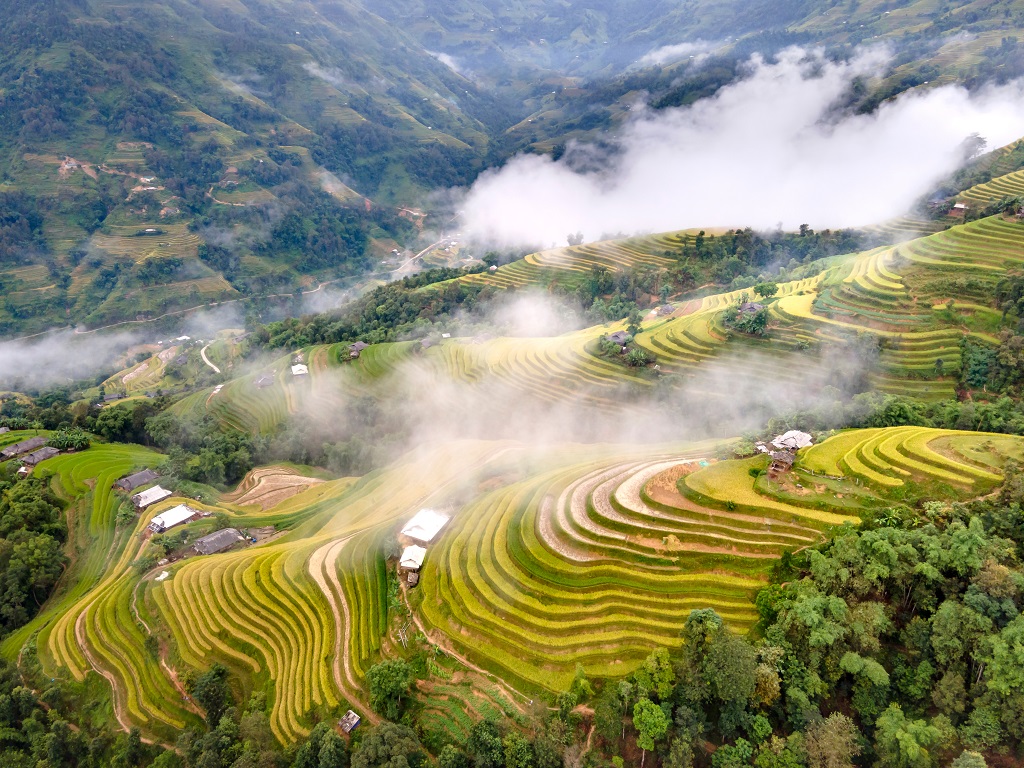 Beyond the Scenic Views: Quan Ba's Hidden Trails
Quan Ba, known for the scenic Heaven Gate and Twin Mountains, has more to offer beyond the main road. Venture a bit farther, and you'll discover small villages along the river, providing a serene backdrop for trekking. For that reason, ditch the crowded spots and explore the peaceful trails that unveil the true beauty of Quan Ba.
Du Gia: A Peaceful Retreat for the Adventurous
Often overlooked by those on a tight schedule, Du Gia rewards travelers who choose to stay overnight at the village. A peaceful haven with more rice fields and unique stilt houses, Du Gia stands out. The surrounding high mountains add an extra dimension to your Hiking in Ha Giang adventure. Furthermore, travelers can explore waterfalls and cool off in the small streams that weave through this less-explored area.
Choosing Your Hiking in Ha Giang Adventure
Curious about where to book your Ha Giang hiking adventure? Our tours offer optional add-ons for Dong Van treks. The tour can be customized based on your preferences. Contact us, share your interests, and let us arrange the perfect hiking trip for you.