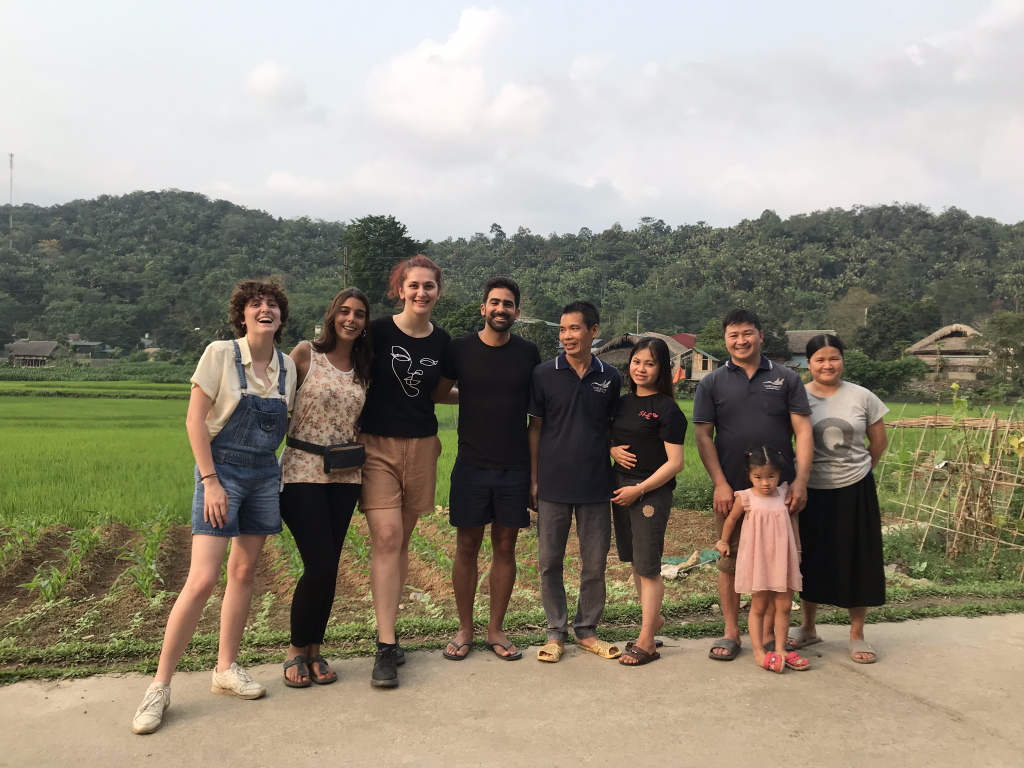 Meet Merima, a North Macedonian girl who joined a volunteering project with YESD for 1 month in Hà Giang, Vietnam:
"I was lucky to get the chance to visit Northern Vietnam and spend a month living a life as a local in the village of Thon Tha, a small village near the town of Ha Giang. Ha Giang is a lovely town – the beginning and the end of the mesmerizing loop, which is an exciting story itself.
Why did you decide volunteering in Vietnam?
I decided to say yes to this opportunity and explore a whole other world, as well as know myself more meanwhile. I am thankful to YESD and the hosting family who introduced me into their lifestyle and made my stay comfortable. All of the locals were very hospitable and welcoming. As nice as they are, it was unavoidable to attend every weekend party and the evening hangouts, where we would drink rice wine/beer and exchange words in different languages. I also learned a few recipes of the food that I loved, like Spring rolls and the fruity Che.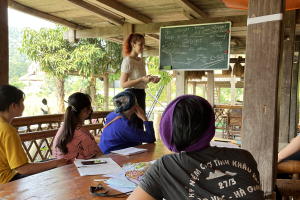 What did you do during your mobility?
The activities of this mobility were mostly about interaction with the locals. Thus, we held English classes, did handicraft workshops with the artisans, planned local events, explored the jungle and decorated the common area. During all of these hours, I had the space to express my creativity and add my soul into the work, while simultaneously grasping a completely different lifestyle. Each day was busy and productive, however, these hours were the most valuable addition to my experience.
What did you like the most about this volunteering experience?
I would spend my free evenings at the nearby waterfalls – a joyfull place with chill water, refreshing for the hot days. It was the perfect place to calm my mind, read a book or meet other travelers that are visiting at the moment. What I most enjoyed are the mornings with a cup of pure filtered Vietnamese coffee and the sound of birds and crickets around. You can see the teeth mountains from anywhere in the village, so wherever you decide to sit and chill you'll have a beautiful view, including the wide rice paddies, green valleys and palm jungles.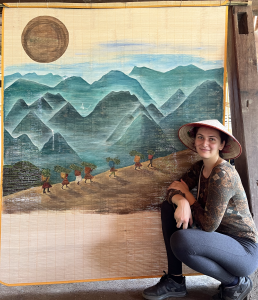 What is your favourite place in Vietnam?
Once you are in Vietnam, Hanoi is a must see. It has been a while since I last felt so excited to explore a city, but on the other hand – saddened that the time I had was not enough, for such a large, plentiful and dynamic place. I mostly spent my time sightseeing on foot, exploring the streets within and around the city center. Frequent well-preserved colonial buildings, pagodas and various museums are the spots that you can not miss, since they display the cultural, societal and historical abundance. Hanoi is very vivid at night and I was captivated by the wide spectrum of places, based on the type of music they play. And again, nothing is better than fancy a coconut coffee in a coffee shop near the lake with a view on Hanoi's Old Quarter.I am glad to have contributed and left my mark in the development of responsible tourism in Thon Tha. As much as I could talk about it, I will finish with a warm recommendation for a trip in Thon Tha, the loop of Ha Giang and the whole northern Vietnam."
-Merima, North Macedonia, volunteer for 1 month in Hà Giang, Vietnam
You are from Europe and want to join a volunteering project like Merima? Get in touch now!Learn more about EuroAsia Volunteering Assistance Program here.