Mai Chau Valley is a beautiful and serene valley located in the northwest of Vietnam, about 160 kilometers from Hanoi. It is home to the White Thai people, an ethnic minority group known for their traditional stilt houses and unique culture.
Highlights of Mai Chau Valley
Mai Chau Valley is an attractive destination, and it is easy to see why. The valley is known for its stunning scenery, including lush rice paddies, towering mountains, and peaceful rivers. It is also a great place to experience Vietnamese culture and learn about the White Thai people.
As you arrive in Mai Chau, you will experience the distinctive lifestyle of the White Thai people. Known for their unique housing architecture, the traditional stilt houses in Lac Village offer a glimpse into the traditional way of life.
A 3-day Detailed Itinerary
Let's embark on a detailed 3-day itinerary to make the most of your visit. This 3-day itinerary will take you to some of the best places to see and things to do here. You will visit traditional villages, go on scenic hikes, and experience the local culture. You will also have the opportunity to stay in a traditional stilt house and enjoy delicious home-cooked meals.
Day 1
Beyond the experience at the local homestay, you can simply explore the valley by cycling or hiking. Travelers can capture the scenic beauty of rice paddies, jungles, and mountain tops by trekking around the village.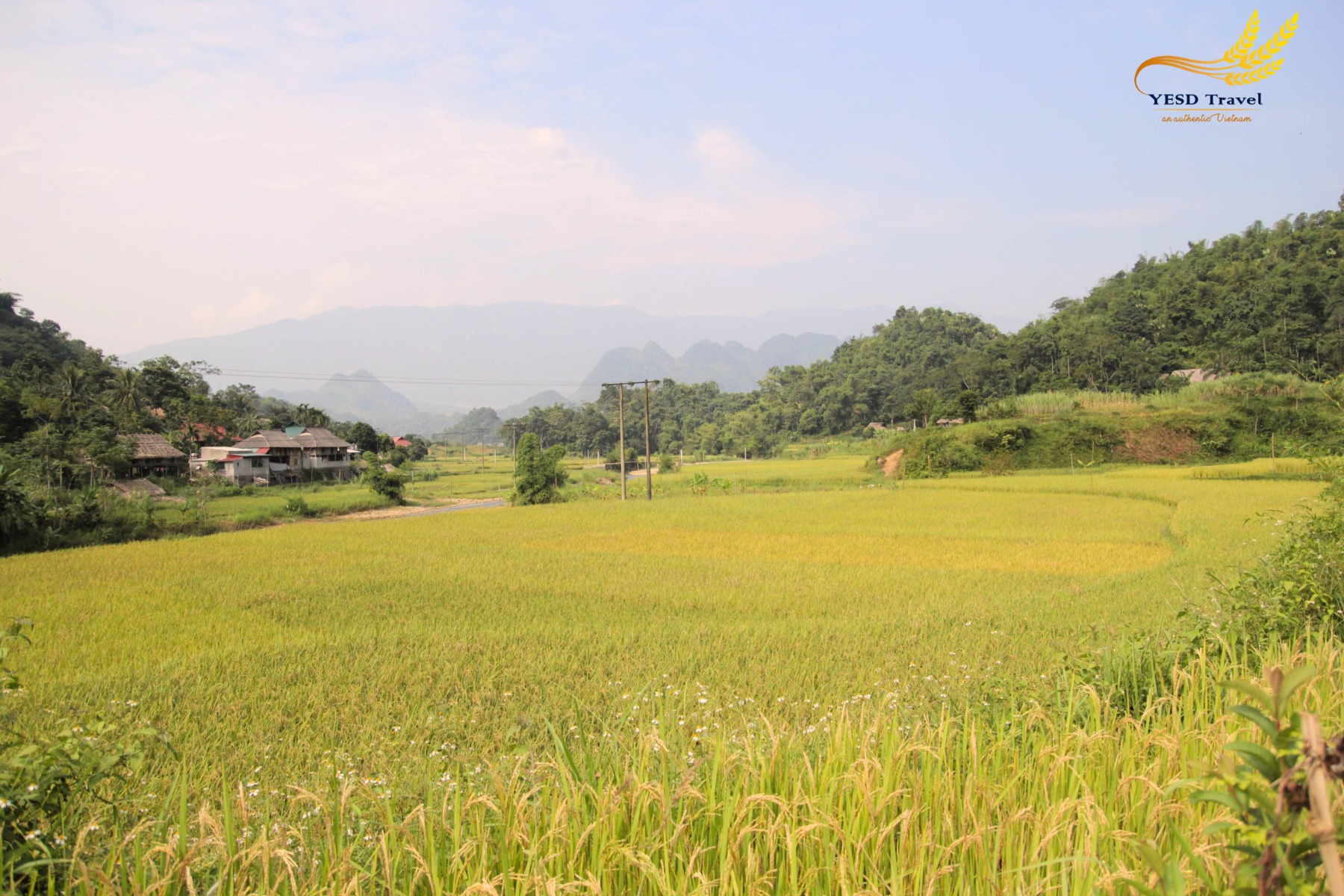 On the first day, travel 160KM southwest from Hanoi to Mai Chau. You can either go by bus or join a private car tour.

After arrival, visit Lac village, a traditional White Thai village where you can see their traditional stilt houses

If you visit on Sunday, then Mai Chau market is a great place to experience the local culture and buy some souvenirs

Have lunch at a local family to try authentic Vietnamese cuisine. If you want to have an authentic experience, then eating with a local family is a must-try.

In the afternoon, start to hike through open rice fields, passing tiny villages and meet the local farmers at work, this will give you a chance to see the rural Vietnamese countryside

Arrive at Te Village and be welcomed by your homestay host

Take a short walk around the village to see the local life, or join your homestay family to cook dinner. The food

Have dinner at the local homestay. Your homestay will invite you happy water as a way of saying welcome. Join a karaoke session or rest for the night.
Day 2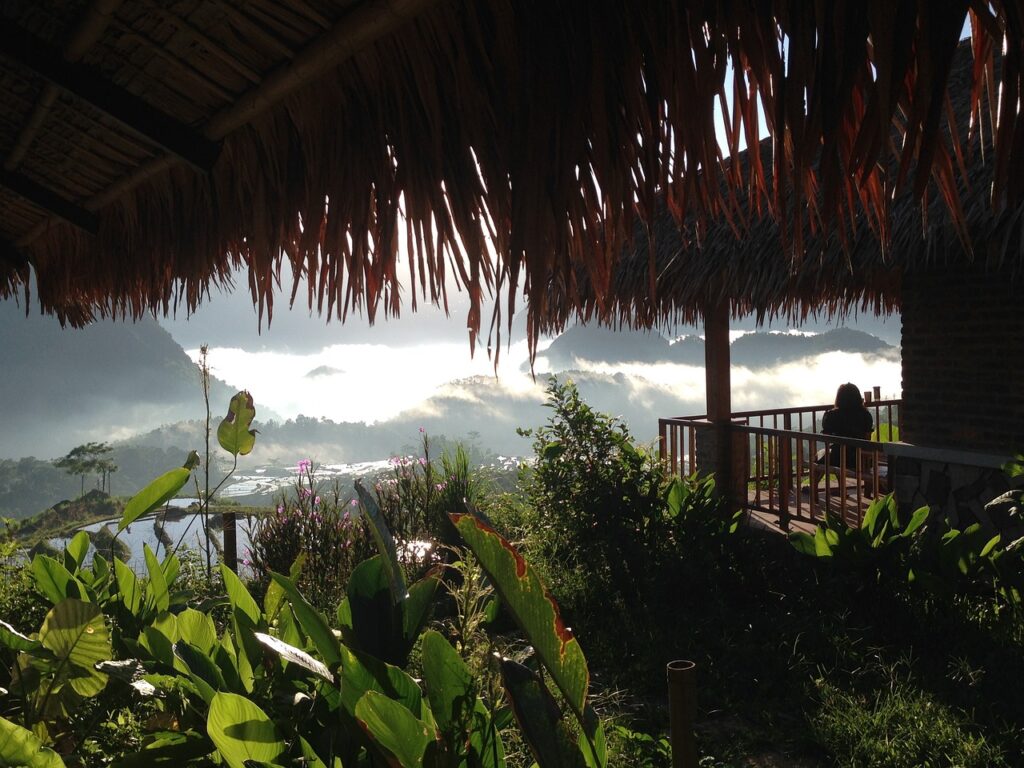 In the morning, hike around Xam Khoe village and explore the local life of the White Thai community there

Get on the bus or car to visit golden rice paddies in Pu Luong Nature Reserve, which are especially beautiful during the harvesting season in November

Stop at Don Village and start a 2-hour walking trip along the road to Hieu Hamlet. This is a beautiful hike that will give you a chance to see the rice terraces and mountains of Pu Luong Nature Reserve

Hike on the off-the-beaten-track passing through the beautiful valley of rice terraces and up to mountains for a panoramic view of the region

Continue hiking up along the captivating waterfall to come to a stilt house for an overnight bungalow

Dinner with local specialties and overnight at a traditional bungalow of Black Thai with a wonderful mountain and rice view from the window
Day 3

After having breakfast, say goodbye to the sweet family host. Your homestay host will be sad to see you go, but they'll be happy that you enjoyed your stay

Visit Pho Doan Market if it's on Sunday. Pho Doan Market is a large market where you can buy all sorts of souvenirs and local products

Transfer to Tom Village for a scenic trek with your tour guide. On the trekking way, the mysterious land lying dangerously on the back of the mountain with rice-terraced paddies tottering horizontally to the sky will capture your heart and imagination at first sight

See water wheels, a unique cultural feature of Thai and Muong people living in the nature reserve of Pu Luong to navigate water sources for their farming activities

Spend most of the time today at Pu Luong Nature Reserve with multiple treks and hikes

Lunch at a local restaurant on route

Head back to Hanoi in the afternoon
Expert Tips to Visit Mai Chau Valley
The best time to visit Mai Chau is during the dry season, which runs from October to April

This is a relatively small valley, so it is easy to get around on foot or by bicycle

There are many different types of accommodation available in Mai Chau, from budget homestays to luxury resorts. If you want to experience the local life, then staying at the homestay with a local family is highly recommended.

Be sure to try some of the delicious local cuisine
Want to join the adventure?
Mai Chau Valley is a beautiful and unique destination that offers something for everyone. Whether you are looking for stunning scenery, rich culture, or authentic experiences, this is the perfect place for you.
 If you are interested in learning more about White Thai culture and experience a local like experience, you can book a Mai Chau cultural tour here.