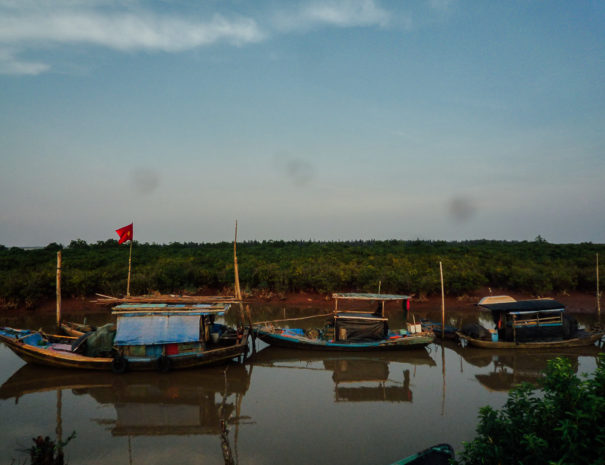 Nam Dinh province is located in the south of the Red River Delta, bordering Ha Nam and Thai Binh provinces to the north, Ninh Binh province to the west, and the East Sea to the east. Blessed with 74 km of pristine coastline and his four major rivers, Nam Dinh has great potential to develop the economy of fishing and water tourism. It is also one of the most important agricultural regions in northern Vietnam. Nam Dinh may not be on the list of popular tourist destinations in Vietnam and is not often visited by foreign tourists, so it is a hidden gem well worth visiting. Once there, you can immerse yourself in the pristine beauty of the countryside and discover the rich culture and history of the local population. Check out this ultimate guide to a hidden treasure destination in North Vietnam!
Best time to visit 
Nam Dinh's climate is defined by a hot and wet rainy season, typical of the climate of the Red River Delta. Weather is affected by four seasons: spring, summer, autumn and winter. Winter temperatures range from 16°C to 17°C. The coldest months are January and February. Summer temperatures range from 26°C to 28°C, with the hottest months being July and August. Rainfall is very light from November to April, with some months having very little rain. You can visit Nam Dinh at any time of the year and discover different aspects of this coastal province according to your preference.
How to get to Nam Dinh
With a short distance of 100 km from the capital Hanoi, Nam Dinh can be accessed by the local bus, train, motorbike or private transportation. If you choose the bus option, the ticket ranges around 100,000 VND/ per way and includes pick up and drop off services within Nam Dinh City and at some fixed points in Hanoi.Taking a train from Hanoi to Nam Dinh is also a good option. Nam Dinh Train Station is among train stops of the Reunification Express Train which runs from Hanoi to Ho Chi Minh City and vice versa. Travelling time by train between Hanoi and Nam Dinh lasts approximately 1 hour 45 minutes. The train has the cheapest fare around 70,000VND per person per way.If you are confident with your motorbiking skills in Vietnamese traffic conditions, don't hesitate to hire a motorbike for a nearly 2 hour journey from Hanoi to Nam Dinh. There is no better way to see beautiful rural landscapes along the way than riding your own bike.Because Nam Dinh is less visited by foreigners and a few of locals can speak English, this will be a smart choice to travel with local guides. You can hire a private driver and tour guide to be your companions on the way to explore hidden treasures in this peaceful destination.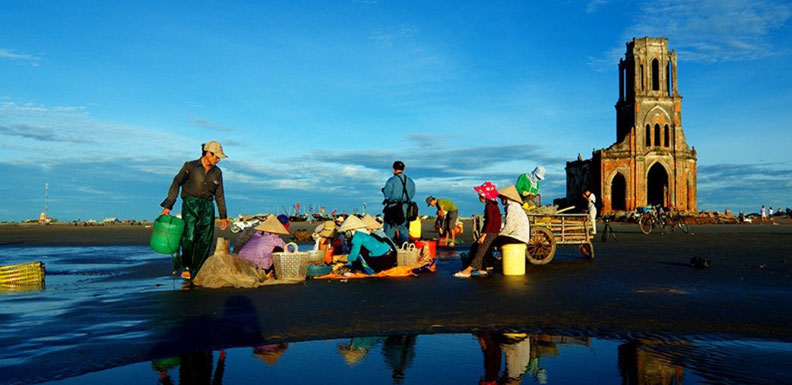 Accommodation in Nam Dinh
You can stay in a homestay, a hostel or a hotel. The area has two famous hotels, Nam Cuong hotel, with 4 stars and Vi Hoang hotel with 3 stars. You can choose an authentic experience or enjoy the luxury of these hotels equipped with luxurious facilities.
Best things to do in Nam Dinh
Nam Dinh has many things to offer to the wandering tourist. Let's go over some of the best things you can do in Nam Dinh.
Visit Tran Temple Complex
Tran Temple Complex is the cluster of three temples, where Tran Dynasty's Kings and royal family members and their meritorious mandarins are worshipped. This complex is located in Loc Vuong Ward, Nam Dinh City. Nam Dinh is considered as the native place of Tran Dynasty which was the most prosperous dynasty in the feudal history of Vietnam. Royal Seal Opening Ceremony in this temple is well known all over the country. Thousands of people wait in long queues from 11 pm on 14th of lunar January, in the hope to receive these yellow papers with royal seal as a token of luck and succeed for the New Year.
Explore Phu Day Relic
Phu Day Relic is located in Kim Thai commune, Vu Ban district, around 15km southwest from Nam Dinh City. This complex consists of 20 cultural relics associated with the life and career of Goddess Lieu Hanh – one of four Immortal Gods in Vietnamese folk religion.
Co Le Buddhist Temple
Co Le Buddhist Temple is a distinctive combination of Vietnamese and European architecture. It was originally built by Zen Buddhist Nguyen Minh Khong under the reign of King Ly Tran Tong. In 1092, Superior Buddhist Monk Pham Quang Tuyen rebuilt it with inspiration from European Gothic architecture. Co Le Pagoda Festival takes place annually from 13th to 16th of ninth lunar month. Coming here during these days, you can see that Co Le Pagoda Festival still preserves many traditional cultural and rituals reflecting the rich and diverse cultural life of rice farmers such as Buddha procession, wrestle, chess, boat racing etc.
Catholic churches and cathedrals
Nam Dinh is known as the home to many Roman Catholic beautiful churches & cathedrals. Explore the beauty and grandiosity of these buildings.
Thinh Long Beach
It takes around one hour for the drive from Nam Dinh City to Thinh Long Beach – a very popular weekend escape for locals in summer time. Its water isn't crystal clear like other beaches in Central Vietnam because the Red River flows into the ocean from here so the color of the water is like soil color. On the other hand, seawater in this beach has high salinity so it can treat rheumatism and skin diseases.

Sounds amazing?
Book a Nam DInh tour now.
. Need more information? Don't hesitate to
contact us
, we will be more than happy to answer your questions!