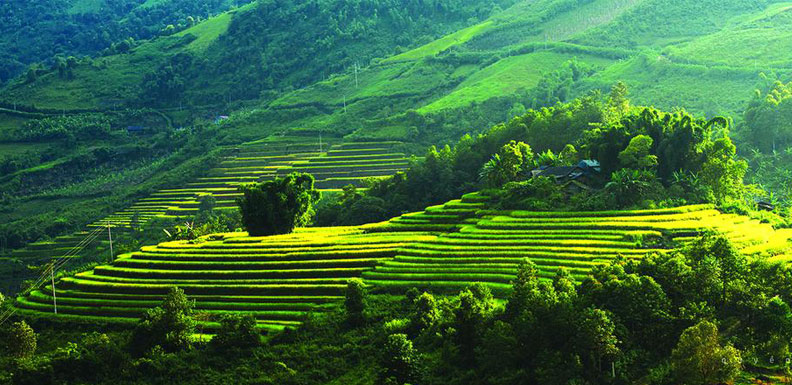 In this blog, we present to you a place near the capital of Vietnam, but a complete contrast from it. Mai Chau is a village near Hanoi, where a small ethnic minority villages lives between beautiful rice paddies. The beautiful rice terraces surrounded by mountains make it an ideal destination for nature lovers. Spend a weekend here, experience Vietnam's rural culture, eat local food and learn about the traditions of the ethnic groups.
Best time to visit 
The best time to visit Mai Chau Valley is from March to May and September to November. If you'd like to see the harvest taking place and the golden glow of the tice terraces, then October is perfect for you. You might want to avoid visiting from June to August, as monsoons can flood local roads.
How to get to Mai Chau
Mai Chau is approximately 140km from Hanoi. Local buses from the capital run directly to Mai Chau from the Lac and Pom Coong villages. If you are coming from Son La or Dien Bien Province, you can ask the driver to stop at the Mai Chau turn off. In Hanoi, it is possible to hire a motorbike or a private car for the journey. Bicycles are the best option for getting around the valley itself, as small paths criss-cross villages and farms. Electric carts are available for hire to take you from one village to another.

Accommodation in Mai Chau
You can stay at a rustic homestay for about 200,000 VND, a boutique farm stay for about 600,000 VND or a four-star hotel 1,500,000 VND.If you've never tried sleeping in a stilt house, you can in Mai Châu. Wooden stilt house homestays can easily be found in Lac Village and Poom Coọng village. These houses usually have clean and simple accommodation, with shared bathrooms and open-air sleeping quarters.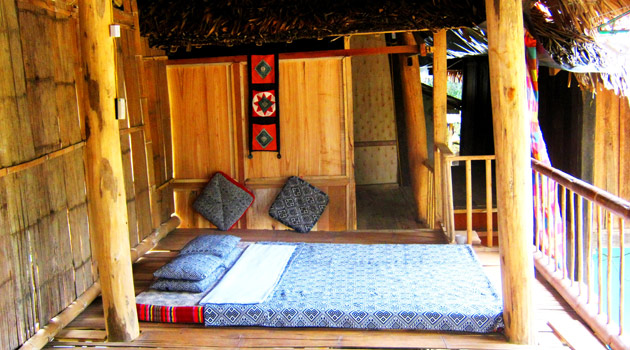 Best things to do in Mai Chau
There is a few things you must do in this beautiful village to have the full experience!
Walk in nature
The morning is ideal for a peaceful stroll along Mai Chau. It has small valley hamlets, winding paths and tranquil gardens that are easy to explore on your own. Look out for stalls serving Cà Phê Phin (Vietnamese coffee) while admiring the butterflies fluttering over rice fields.
Learn about ethnic textiles
When in Mai Chau, don't miss the opportunity to purchase beautiful fabrics woven by white Thais. There are looms in front of the local shops, and you can watch the locals weaving and actually try to weave with them yourself.
Cycle though the valley
One of the best ways to experience Mai Chau is on a bicycle. You can venture out on your own or hire a guide to explore the many trails through the valley. Your guide can also introduce you to White Thai families. You can sit in a long stilt house, sip tea, nibble on lychees and learn about life in the countryside.
Taste farm-fresh foods
The food at Mai Chau is fresh. Start your meal with Cơm Lam (grilled bamboo rice). Peeled bamboo and chopped peanuts dipped in rice for a delicious snack. Gà đồi (grilled chicken), thịt lợn xiên nướng (grilled pork skewers) and stir-fried vegetables are some of the most popular dishes. If you're feeling adventurous, try Ve sầu chiên, a local delicacy with stuffed and fried cicadas.
Enjoy ethnic dance and music
A traditional performance is a special part of a visit to Mai Chau. White Thai musicians are adept at using natural materials to make instruments that create captivating rhythms. After dinner, sit back, relax, and watch White Tie perform. These shows feature live folk music and dancers in full national costume.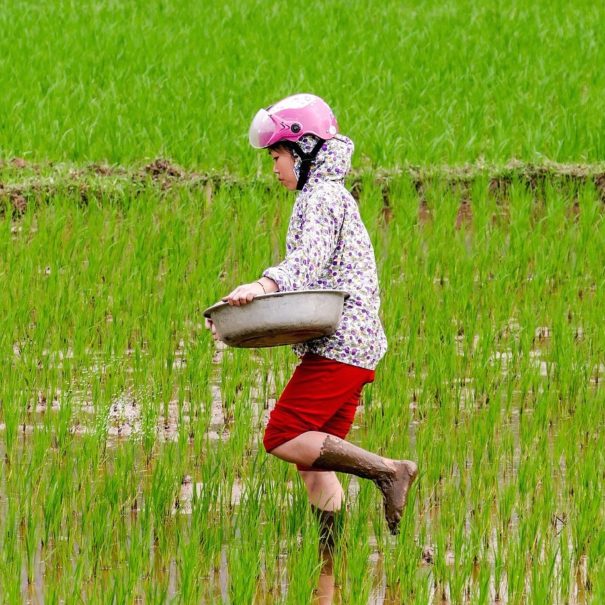 Sounds amazing?
Book a Mai Chau tour now.
. Need more information? Don't hesitate to
contact us
, we will be more than happy to answer your questions!