Ha Giang is located in Northern Vietnam, in the list of the poorest provinces of the country. There are 20 different ethnic minority groups inhabiting, which accounts for more than 75% of Ha Giang population. Due to difficult travel with about 85% of rocky terrain, which is the main reason for Ha Giang poverty. The local youth quit school very early in order to earn money and most of them get married before their legal age. This is one of the reasons for low education and under-development. Women are the vulnerable group who are hard to access higher education because of the local custom. Ninety percent of Ha Giang's population is ethnic minorities with limited education levels. Most of the illiterates are from poor and near-poor households and they do not have time to attend literacy classes. Ha Giang had the second highest poverty rate at 18.54 percent even though Vietnam's poverty rate declined to 2.23 percent in 2021 from 2.75 percent in 2020, according to the Ministry of Labor, Invalids, and Social Affairs (MOLISA).
Understanding all the difficulties of the local people, YESD has set up a sustainable livelihood fund that is to deal with the poverty in Ha Giang. In which we use the fund to purchase a baby buffalo or cow as a sustainable donation to poor families. Those households live in very poor conditions where their income is from planting corn, and vegetables. With the hope of bringing a better future to the local, YESD – a social enterprise commits to deduct its tour benefits to this fund. We are happy to get outside donations to the fund. We all understand that there are more helping hands, the more people will be supported. We would like to send our grateful thanks to our special donor, Mr Joe Wardale. He was touched when he saw the local poor living condition. He would love to share his empathy to those vulnerable people and share his love with them.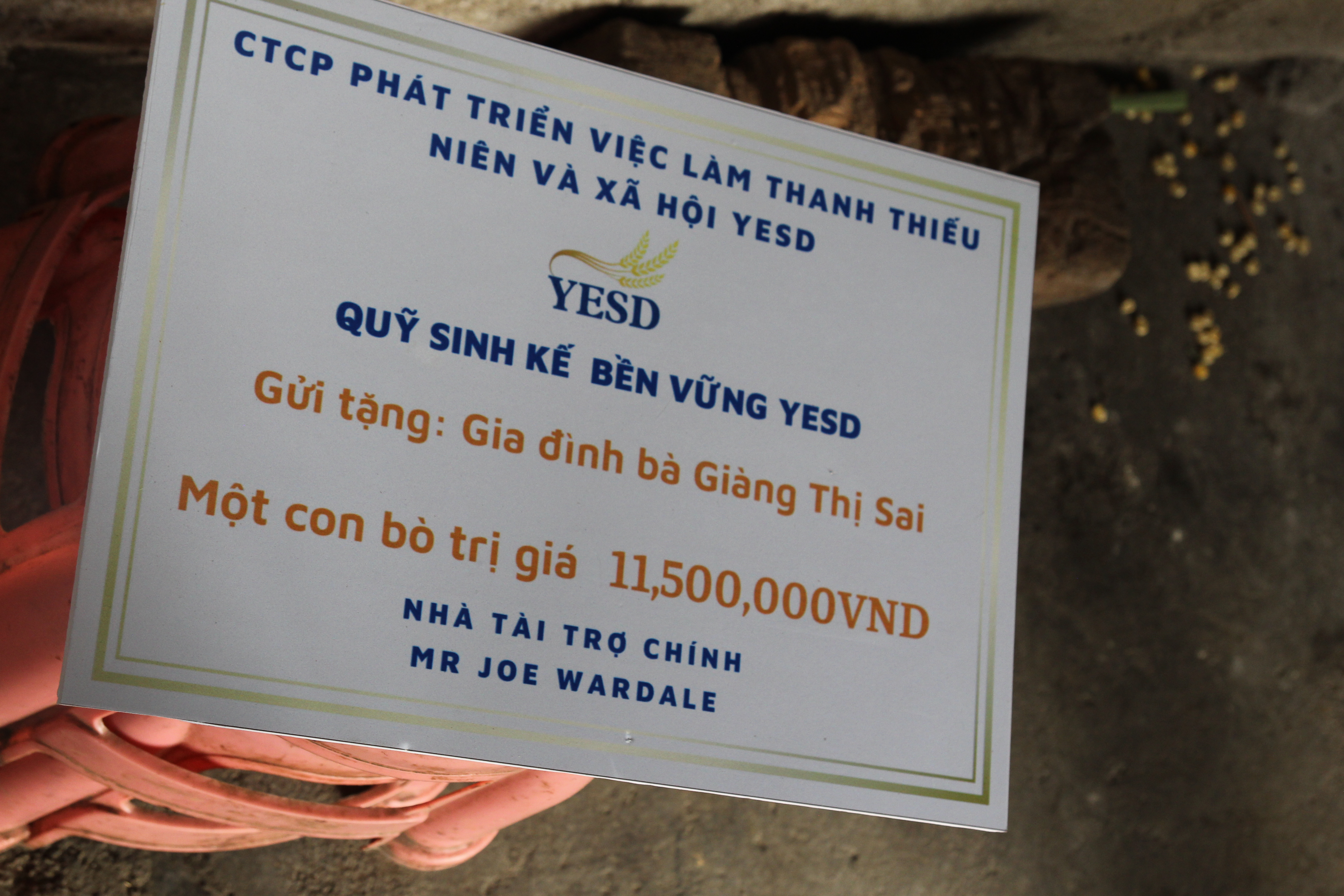 YESD did research in Thang Mo commune, Yen Minh district which is bordered with China, surrounded by mountains and rocks. More than 90% of the commune population are H'mong ethnic people. There are 285 households that rely on agriculture, especially planting corn or working for Chinese farmers. Life has become hard and harder since 2020 when China closed its border. That means they could not earn more money and must come back with their agricultural farming again. They do not earn much from this farming work. Therefore YESD has set up the sustainable livelihood fund where we will donate a cow or buffalo to those disadvantaged communities.By searching with the local authority and our local partner, EHC a social enterprise in Ha Giang, we have decided to donate three cows to those below families.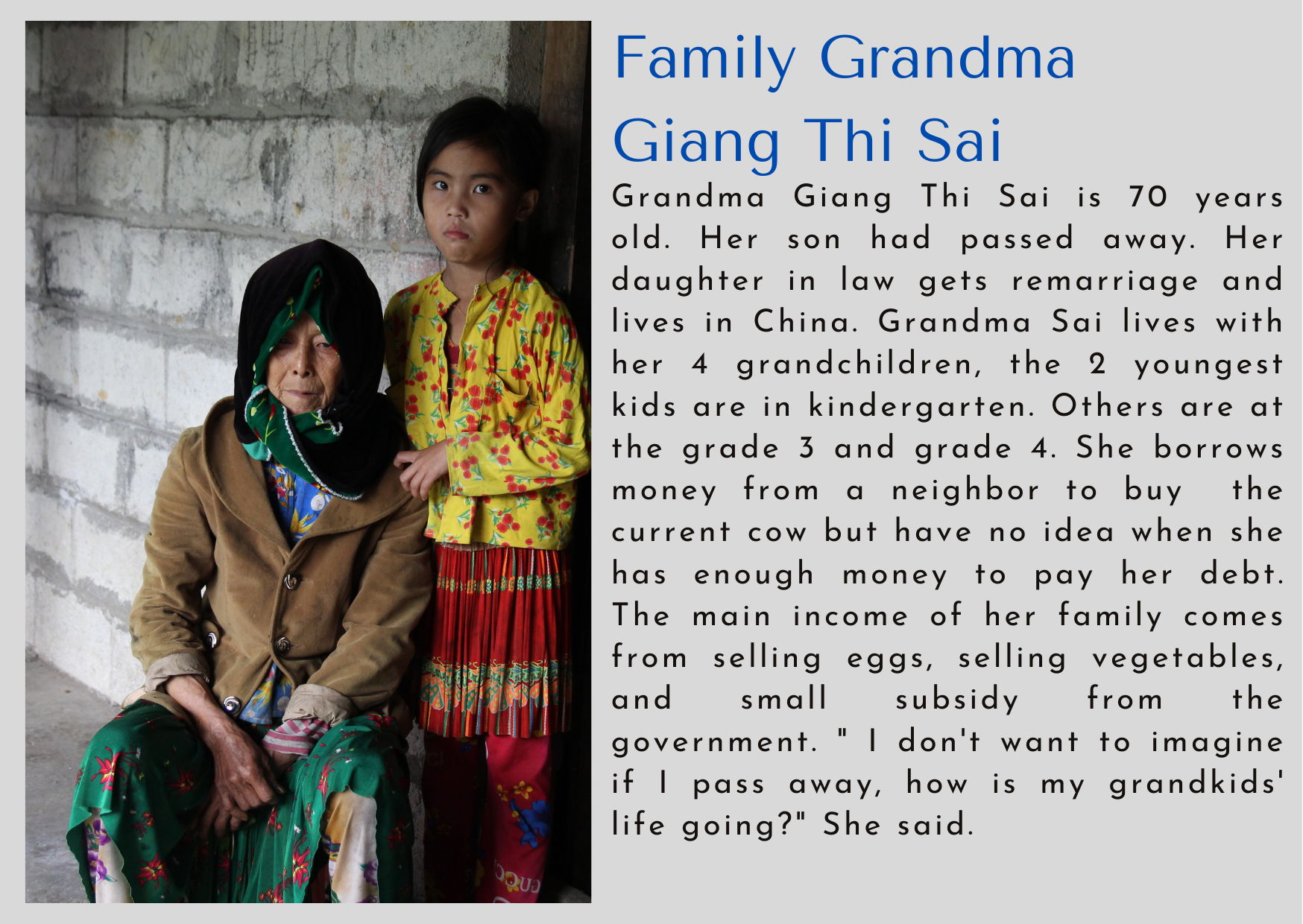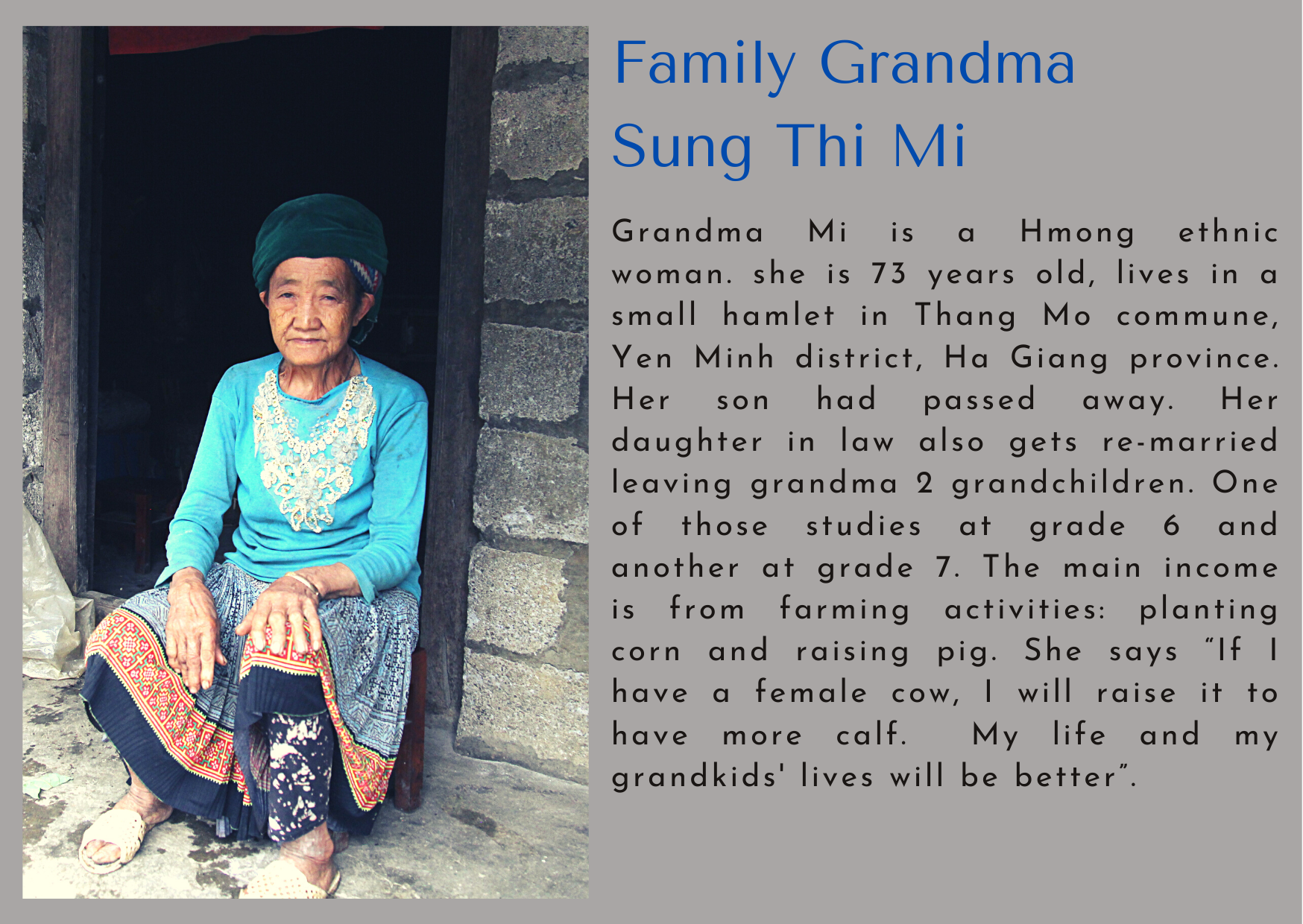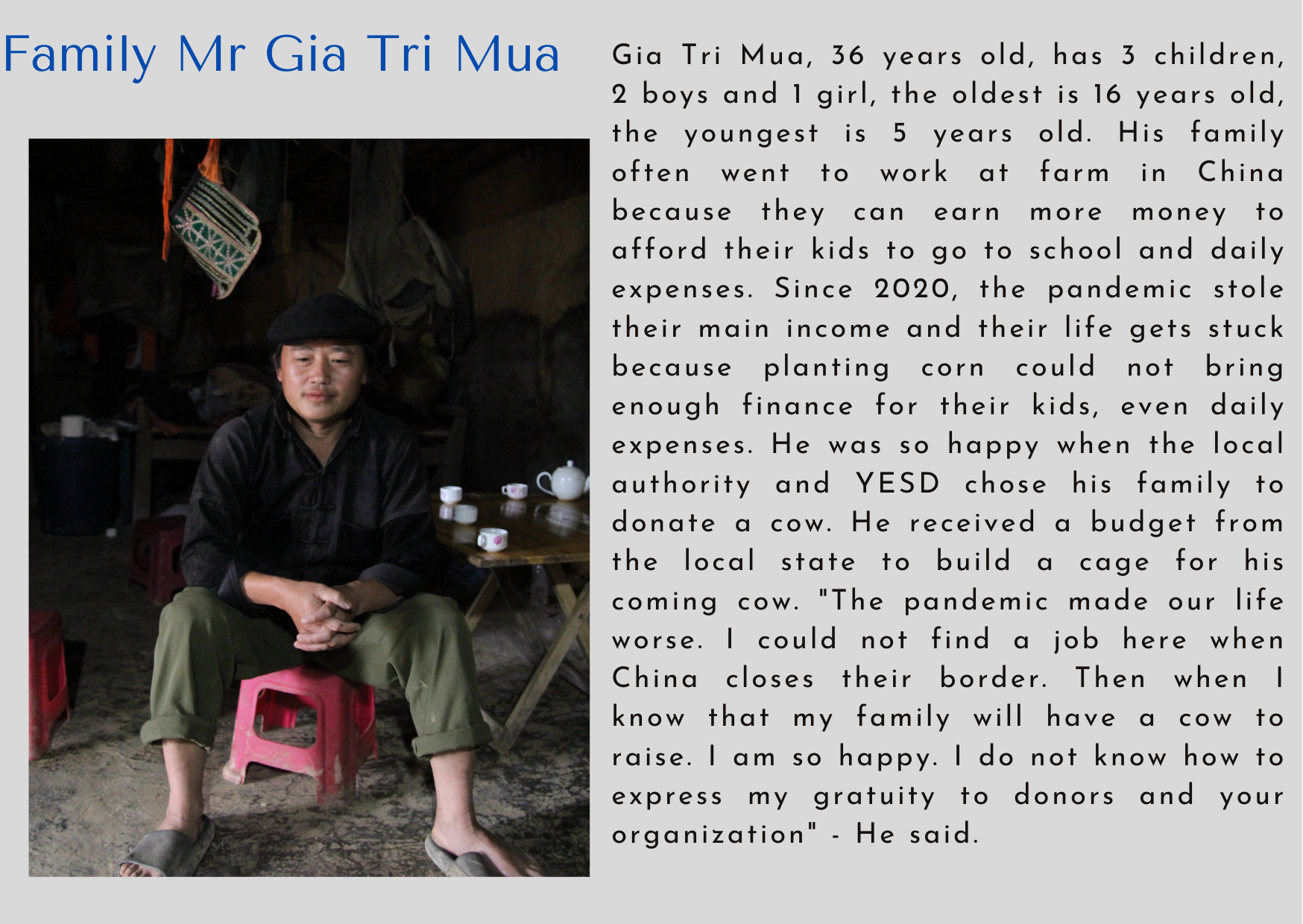 On the 30th of October, the first cow was donated to Grandma Giang Thi Say family. She did purchase this baby cow 2 months before we chose her family. She borrowed money from her relatives but she has no idea how to pay this debt. She gets 2 pigs that is a donation from one organization. She thought that if she does not have enough money to pay the debt, she will sell her two pigs to have some money. Thanks to Mr Joe, grandma Say can save that money to buy stationeries and good food for her grandchild in this traditional Tet holiday. She moved into tears when our delegate came to her house and sent this donation to her. She talked in her Hmong dialect but we can understand from her eyes how much she would love to send her thanks and gratuity to our donors.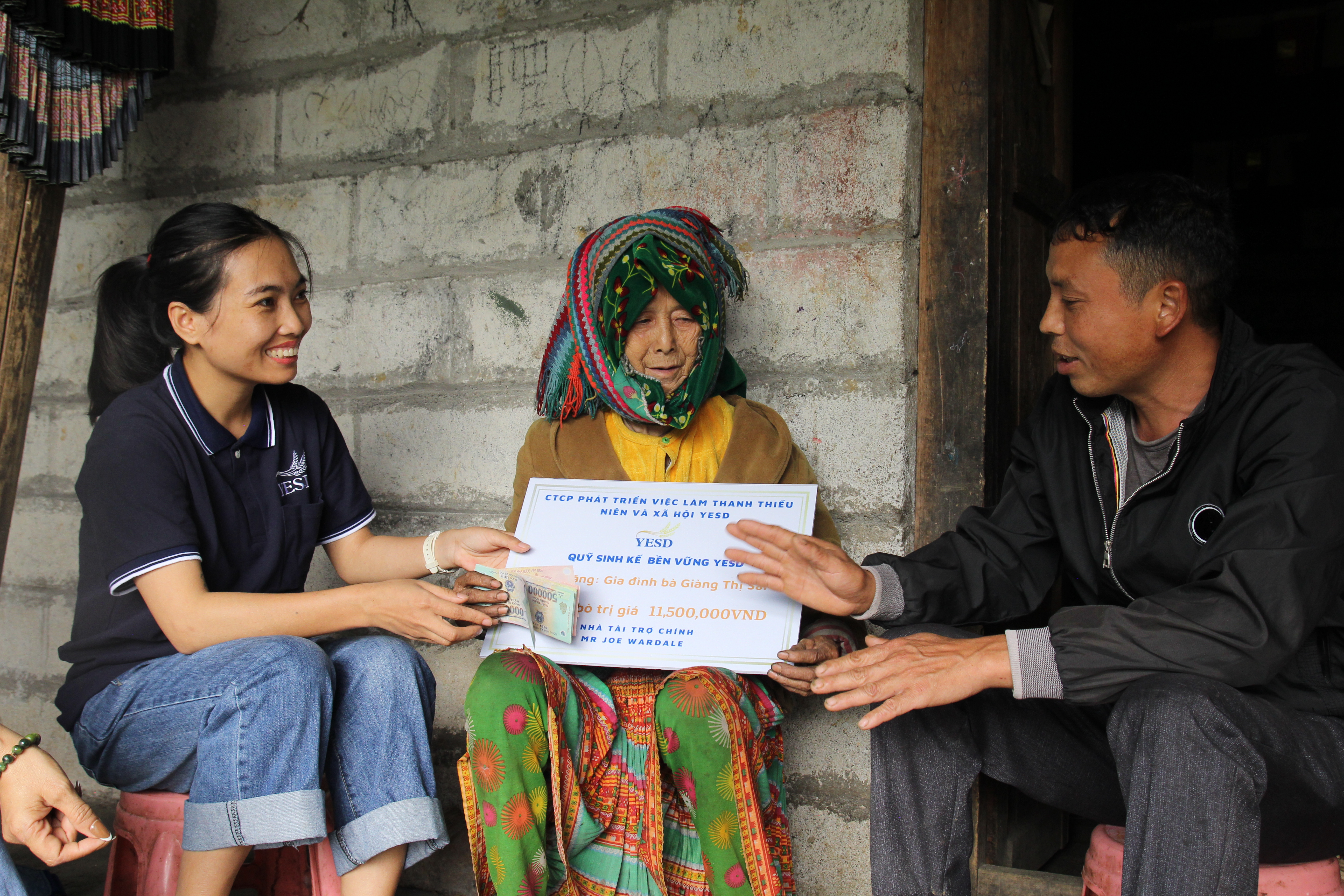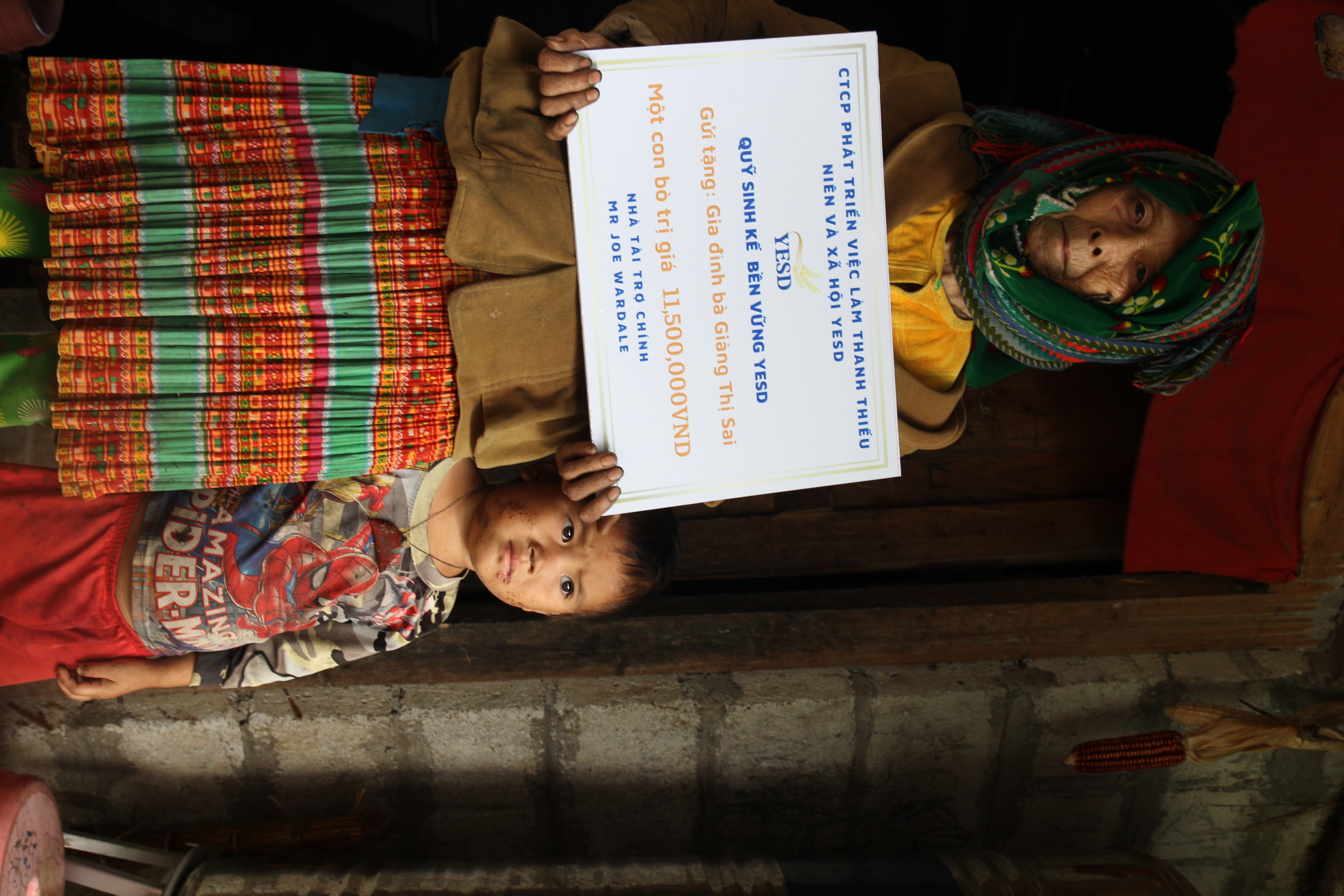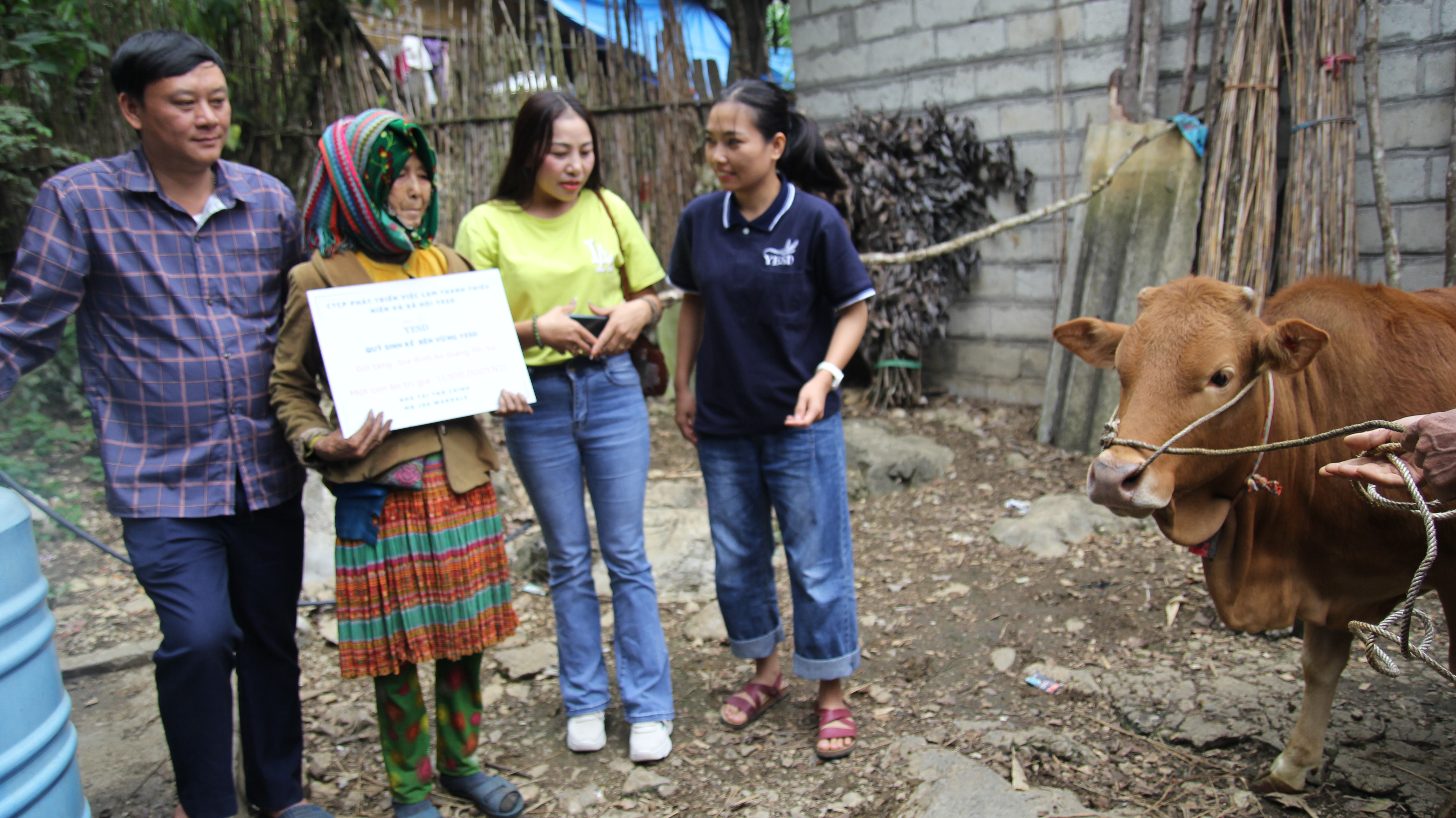 Need more information. Don't hesitate to
contact us
, or get more information to know how to support our project https://yesd.org/donate/